Dr. Wilson's Adrenal Rebuilder 150 Caplets

SKU: FF00104
UPC Code: 856538001046
Weight: 0.56
Dr. Wilson's Adrenal Rebuilder 150 Caplets
2
Average rating:

Write a review
|
Read all reviews
NourishingFoods.com is the number one online retailer of Dr. Wilson's products. Try us and find out why we're number one!
Save Even More On This Product!!
CLICK HERE to activate the coupon, or enter FF in the Coupon Code box at check out. You must use the coupon to get the extra discount.
NOTE: NOT AVAILABLE FOR SHIPMENT TO AUSTRALIA, NEW ZEALAND OR SOUTH AFRICA.
NourishingFoods Price:$67.45
Retail Price: $74.95
SAVE: 10%
Multiglandular building blocks Without Hormones to optimally support healthy adrenal structure & function.*

When your adrenal glands are overworked by stress, both their function and structure can benefit from targeted, natural support.* Dr. Wilson created Adrenal Rebuilder to provide naturally bioavailable building blocks your body can readily use to support healthy adrenal structure and promote optimal function of your adrenals and the other endocrine glands affected by stress.*

Combines balanced proportions of dried extracts from glands most affected by stress

Processed to be free of hormones

High quality, free-range porcine source

Contains natural nutritional components that foster and support strong adrenal structure and function*

Readily bioavailable for optimal absorption and utilization*

The cornerstone and deepest acting supplement in Dr. Wilson's Program for Adrenal Fatigue & Stress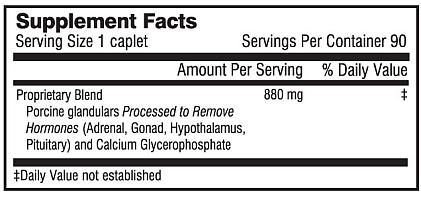 Ingredients: A proprietary blend containing porcine adrenal, gnad, hypothalamus, pituitary and thyroid concentrates processed to remove hormones.

Other Ingredients: Dicalcium Phosphate, Inulin, Magnesium Stearate, Stearic Acid, Modified Cellulose, Pharmaceutical Glaze.

Directions for use: 1-4 caplets with each meal and 1 at bedtime. If needed, take 1-2 every 3 hours or as recommended by your health practitioner. As results are seen, gradually decrease to 1 or more a day, as needed.

Side effects: The ingredients in Adrenal Rebuilder have no known detrimental side effects when used as directed.

Quality and purity: Adrenal Rebuilder is a completely natural dietary supplement. It contains no egg, dairy, sugar, yeast, corn, wheat, soy, artificial coloring, flavoring or preservatives.

Dr. Wilson's Adrenal Rebuilder 150 Caplets
2
Average rating:

Write a review
|
Read all reviews
Featured positive reviews:
Dr. Wilson's Adrenal Rebuilder 150 Caplets

Works Great!
03/04/2010
Terrific product. Like most supplements, it takes time to build up in your system. After a couple of weeks, I noticed that I slept much better at night and felt less tired during the day.