Dr. Wilson's Herbal Adrenal Support Formula 2 oz

SKU: FF00110
UPC Code: 856538001107
Weight: 0.31

NourishingFoods.com is the number one online retailer of Dr. Wilson's products. Try us and find out why we're number one!
Save Even More On This Product!!
CLICK HERE to activate the coupon, or enter FF in the Coupon Code box at check out. You must use the coupon to get the extra discount.
NOTE: NOT AVAILABLE FOR SHIPMENT TO AUSTRALIA, NEW ZEALAND OR SOUTH AFRICA.
NourishingFoods Price:$32.36
Retail Price: $35.95
SAVE: 10%
Herbal support for health during stress, adrenal fatigue or menopause.*

Staying well during times of stress requires strong function in the adrenals and the other glands involved in the stress response.* Dr. Wilson's Herbal Adrenal Support Formula® contains extracts of organically grown plants demonstrated by scientific research to help promote and sustain healthy function in the organs and glands most affected by stress, especially the adrenal glands.*

Organically grown adaptogenic herbs

Easy-to-use liquid formula

Supports healthy adrenal and HPA axis function for optimal stress response

Promotes calm, balanced energy and sound sleep

Supports hormone balance during menopause

Vegetarian

One of the four original products in Dr. Wilson's Program for Adrenal Fatigue & Stress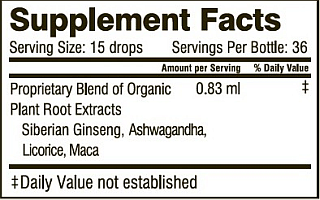 Other Ingredients: Purified water and alcohol (25%) from tinctures.

Contains no animal products.

Side effects - The ingredients in Herbal Adrenal Support Formula have no known detrimental side effects when used as directed.

Quality and purity - Herbal Adrenal Support Formula is a completely natural dietary supplement It contains NO sugar, yeast, corn, wheat, soy, dyes, coloring agents, egg, dairy, or animal products.