Natural Factors® MSM Joint Formula 90 Capsules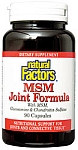 SKU: NF02695
UPC Code: 068958026954
Weight: 0.38



MSM Joint Formula is a synergistic blend of naturally-derived compounds; MSM, Glucosamine and Chondroitin Sulfates which support healthy joint function.* Glucosamine and Chondroitin provide support for the cartilage while MSM nourishes the joints and muscles. Taken together, these three nutrients provide triple joint support for healthy mobility.

Natural Factors®
NourishingFoods Price:$13.97
Retail Price: $19.95
SAVE: 30%
MSM Joint Formula is a synergistic blend of naturally-derived compounds; MSM, Glucosamine and Chondroitin Sulfates which support healthy joint function.* Glucosamine and Chondroitin provide support for the cartilage while MSM nourishes the joints and muscles. Taken together, these three nutrients provide triple joint support for healthy mobility.

Nutritional Information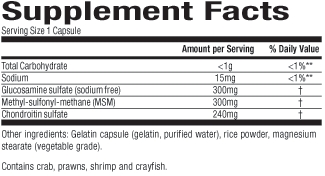 Directions: 1 capsule, 2 - 4 times per day or as directed by a health professional. Keep out of reach of children.

Contains: Crabs, prawns, shrimp, and crayfish. Gelatin capsule (gelatin, purified water), rice powder, magnesium stearate (vegetable grade).

Contains no artificial preservatives, color or sweeteners, no corn, dairy, starch, wheat or yeast.
Natural Factors&reg