NOW Foods 7-Keto® LeanGels™ 100 mg 60 Softgels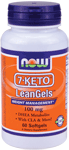 SKU: NW3022
UPC Code: 733739030221
Weight: 0.19



The special blend of ingredients in NOW® 7-KETO® LeanGels™, including CLA and green tea polyphenols, work synergistically to provide healthy weight management, as well as antioxidant power.*

NourishingFoods Price:$19.99
Retail Price: $39.99
SAVE: 50%
DHEA Metabolite
With CLA & More!
A Dietary Supplement
7-Keto-DHEA is a natural metabolite of DHEA, and like DHEA, its level in the body is known to decline with age. Furthermore, a decrease in metabolic rate often accompanies the decreased production of DHEA and its metabolites. However, unlike DHEA, 7-Keto-DHEA does not convert to estrogen or testosterone. 7-KETO® is the patented ingredient that has been shown in clinical studies to assist in the maintenance of a healthy body weight and helps to maximize results of a proper diet and exercise. The special blend of ingredients in NOW® 7-KETO® LeanGels™, including CLA and green tea polyphenols, work synergistically to provide healthy weight management, as well as antioxidant power.*
Each (1) Softgel Contains:
7-KETO® (DHEA Acetate-7-one) - 100 mg

Conjugated Linoleic Acid (CLA)(from Safflower Oil) - 400 mg

Green Tea Extract (Camellia sinensis) (Leaf)**
(min. 60% Polyphenols) - 75 mg

Acetyl-L-Carnitine (from Acetyl-L-Carnitine HCl) - 15 mg

Rhodiola Extract (Rhodiola rosea) (Root)
(min. 3% Total Rosavins) - 10 mg


Suggested Usage: As a dietary supplement, take 1 softgel 2 times daily with food. Consider taking this product in combination with NOW® Diet Support, L-Carnitine Liquid and LipoTrim.

Other Ingredients: Softgel Capsule (gelatin, glycerin, water, carob), Sunflower Oil, Beeswax and Soy Lecithin.

Contains no: sugar, salt, starch, yeast, wheat, gluten, corn, milk, egg, shellfish or preservatives.

Warning: For adult use only. Keep out of reach of children. Please consult your healthcare practitioner before use if pregnant, lactating, or have a medical condition.

NOW® Foods