NOW Foods Glucosamine & Chrondroitin 90 Tablets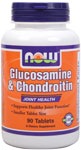 SKU: NW3126
UPC Code: 733739031266
Weight: 0.5



• Sustained Release
• Joint Health*
• Plus Hyaluronic Acid
• Smaller Tablet Size

NourishingFoods Price:$12.99
Retail Price: $25.99
SAVE: 50%
Sustained Release
Joint Health*
Plus Hyaluronic Acid
Smaller Tablet Size


Glucosamine & Chondroitin are naturally occurring structural components that have recently enjoyed growing popularity. Glucosamine is an amino sugar derived from the chitin of shellfish and is used by the body to support healthy joint structures. Chondroitin, Vitamin C and Manganese complement Glucosamine and work synergestically to provide optimal nutritional support.*
3 Tablets Contain:
Vitamin C (as Ascorbic Acid) - 60 mg
Manganese (from Manganese Amino Acid Chelate) - 6 mg
Glucosamine Sulfate (from Glucosamine Potassium Sulfate Complex) - 1.5 g (1,500 mg)
Chondroitin Sodium Sulfate (from Bovine Cartilage) - 1.2 g (1,200 mg)
Hyaluronic Acid (from Sodium Hyaluronate) - 25 mg



Suggested Usage:As a dietary supplement, take 3 tablets daily with meals or on an empty stomach. Consider taking this product in combination with NOW Celadrin and D-Flame.

Other Ingredients: Cellulose, Stearic Acid (vegetable source), Magnesium Stearate (vegetable source), Silica and Vegetable Coating. Contains shellfish (crab, shrimp, lobster, crayfish) derivative.

Contains no: sugar, starch, yeast, wheat, gluten, soy, milk, egg or preservatives.

Warning: Persons with a known allergy to shellfish should not use this product.

NOW® Foods