Bluebonnet MSM Powder 8 Ounces
NourishingFoods Price:$14.36
Retail Price: $17.95
SAVE: 20%
Bluebonnet's MSM Powder provides pure patented methylsulfonylmethane (OptiMSM®), a superior, distilled form of active sulphur. Available in easy-to-swallow vegetable capsules for maximum assimilation and absorption.
Nutritional Information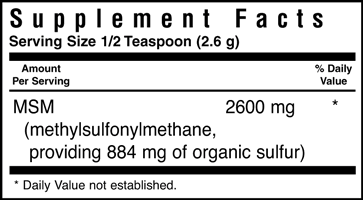 Directions: As a dietary supplement, take 1/2 teaspoon daily with water or as directed by a healthcare practitioner.

Other Ingredients: None.

Free of: milk, egg, fish, crustacean shellfish, tree nuts, peanuts, wheat and soybeans.

Also free of corn, yeast, gluten, barley, rice, sodium and sugar.

Vegetarian. Gluten Free.

Bluebonnet KOF-K Certification #K-0000700.
Bluebonnet®