Bluebonnet Ageless Choice for Men 50+ 90 Caplets
NourishingFoods Price:$31.00
Retail Price: $38.75
SAVE: 20%
Men in their prime are often accused of acting like young men in their 20's, developing a second wind in the back half of their life. The only problem is that their bodies don't often work like they did when they were young. Realizing that the bodies of mature men don't always keep up with their minds, the nutritional scientists at Bluebonnet have included the right nutrients to address their aging heart, joints and brain so that they can continue to be "young at heart" well into their senior years.

In fact, this innovative multiple for men 50+ contains pomegranate, tomato extract and coenzyme Q10 to support the health of their aging heart, as well as the popular and potent antioxidants, vitamins C, E and beta-carotene and extracts from turmeric, elderberry, marigold, green, white and black teas to combat the ravaging effects of free radicals caused by a lifetime of stress, pollution, smoking, drinking and processed fast foods. Additionally, scientifically researched ingredients like saw palmetto, pygeum, rhodiola, stinging nettle and quercetin have been integrated into the formula to help them maintain the health of their prostate, a growing concern for maturing men. In an effort to help men in their prime stay physically active, mobile and mentally healthy and alert, glucosamine, MSM and Perluxan® hops extract were included to support joint health, as well as acetyl-L-carnitine, ginkgo biloba extract and phosphatidylserine, which not only increases oxygen to the brain but also facilitates communication between the brain cells for enhanced focus and memory.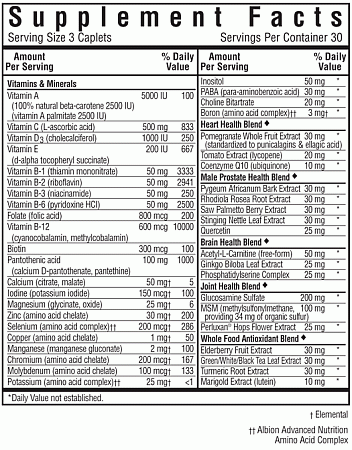 Directions: As a dietary supplement, take 3 caplets daily. Preferably with meals.

Free Of: milk, egg, fish, tree nuts, peanuts, wheat, gluten, barley and sugar.

Other Ingredients: Vegetable cellulose, stearic acid, vegetable magnesium stearate, vegetable glaze.

Contains: Crustacean shellfish, soybeans.