Bluebonnet GSX® Formula 60 Vcaps
NourishingFoods Price:$15.96
Retail Price: $19.95
SAVE: 20%
Supports bone, joint and ligament health. Highly advanced glucosamine sulfate complex dietary supplement. Scientifically formulated to promote healthy bones, joints and ligaments. Each capsule of GSX Formula is balanced with a special combination of glucosamine sulfate, chondrotin sulfate, shark cartilage, sea cucumber, vitamin C, L-Proline, vitamin B-6, zinc and pineapple bromelain. 100% Kosher vegetarian capsules.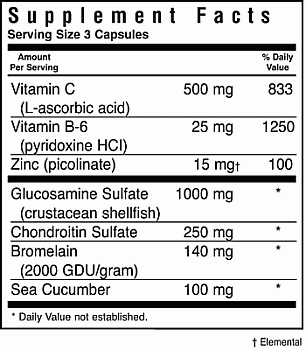 Directions: As a dietary supplement, take three capsules daily. Preferably one with each meal.

Free Of: milk, egg, fish, tree nuts, peanuts, wheat, soybeans, yeast, gluten, barley, rice and sugar.

Contains: crustacean shellfish.