Bluebonnet Liquid Super Earth® Multinutrient Formula 32 fl oz
NourishingFoods Price:$27.96
Retail Price: $34.95
SAVE: 20%
Bluebonnet's Liquid Super Earth® Multinutrient Formula is bursting with over 25 crucial vitamins, minerals and antioxidants and more than 28 important plant-based nutrients from the foods you should eat everyday, such as adaptogenic herbs like astragalus, ginseng, ginger, garlic and ginkgo, health-promoting greens like spirulina and chlorella and phytonutrient super fruits like pomegranate, grape seed, acai, mangosteen, goji and tart cherry fruit extract that also provide its naturally delicious tropical fruit flavor.

Since the human body requires a broad range of nutrients for general health and well-being, Bluebonnet's Liquid Super Earth® Multinutrient Formula is a SUPER choice to help bridge the nutrient gap in your daily diet. So if you feel that you should be getting most of your nutrients from the foods you eat and want a multivitamin & mineral supplement to support that philosophy, look to Bluebonnet's Liquid Super Earth® Multinutrient Formula and reap the benefits of taking two naturally delicious spoonfuls per day of fresh whole food essentials. A perfect choice for today's busy, stressful lifestyle.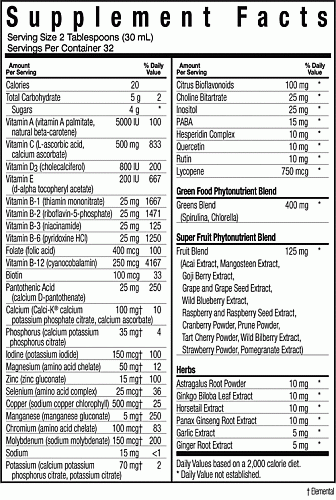 Suggested Usage: As a dietary supplement, take 2 tablesppons (30 ml) daily, preferably with a meal or as directed by a healthcare practitioner.

Other Ingredients: Purified water, organic evaporated cane juice, citric acid, natural flavors (tropical fruit, pineapple, banana), xanthan gum, stevia, potassium sorbate.

Free Of: milk, egg, fish, crustacean shellfish, tree nuts, peanuts, wheat, yeast, gluten and barley.

Contains: soybeans.

CAUTION: Shake well before serving. Keep refrigerated after opening.