Bluebonnet Milk-Free Acidophilus Plus FOS Powder 3 Ounces (84gm)
NourishingFoods Price:$21.20
Retail Price: $26.50
SAVE: 20%
Bluebonnet's Probiotic Acidophilus Plus FOS Powder provides over ten billion viable, healthy microorganisms per gram. This probiotic formula is specially formulated with lactobacillus acidophilus (3.3 billion), lactobacillus bulgaricus (3.3 billion), and bifidobacterium (bifidum & longum, 3.3 billion) in a unique 100 mg base of FOS (fructooligosaccharides). Available in easy-to-mix powder for maximum assimilation and absorption.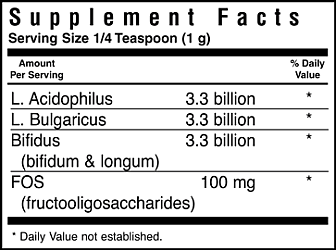 Directions: As a dietary supplement, take 1/4 teaspoon daily, or as directed by a healthcare practitioner.

Other Ingredients: Other ingredients: Vegetable cellulose.

Free Of: milk, egg, fish, crustacean shellfish, tree nuts, peanuts, wheat, soybeans, corn, yeast, gluten, barley, rice and sodium.

CAUTION: Refrigeration Recommended.

Gluten Free.