Bluebonnet Mixed Carotene Beta-Carotene 25,000 IU 90 Softgels
NourishingFoods Price:$18.36
Retail Price: $22.95
SAVE: 20%
Bluebonnet's Mixed Carotene Beta-Carotene 25,000 IU Softgels contain a branded natural beta-carotene/carotenoid mix called Betatene®, derived from 100% natural Dunaliella salina, which is grown in the crystal clean lakes of Whyalla, Australia. This special patented carotenoid mix provides a balanced blend of potent carotene antioxidants as they exist in nature: alpha-carotene (480 mcg), beta-carotene/vitamin A (25,000 IU), cryptoxanthin (110 mcg), zeaxanthin (90 mcg) and lutein (70 mcg), plus lycopene (565 mcg) from tomato extract in easy-to-swallow softgels for maximum assimilation and absorption.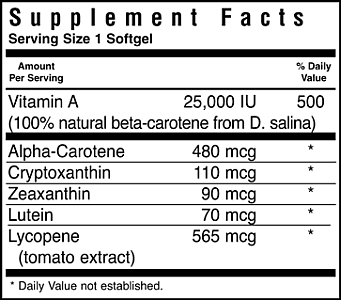 Directions: As a dietary supplement, take 1 softgel daily or as directed by a hea lthcare practitioner.

Other Ingredients: Gelatin, glycerin, water.

Free Of: milk, egg, fish, crustacean shellfish, tree nuts, peanuts, wheat, soybeans, corn, yeast, gluten, barley, rice, sodium and sugar.

Gluten Free.