Bluebonnet Natural Soya Lecithin Granules 1 Pound
NourishingFoods Price:$15.96
Retail Price: $19.95
SAVE: 20%
Bluebonnet's Natural Soya Lecithin Granules (Non-GMO) are from 100% natural, non-GMO soybeans, containing a minimum of 95% phosphatides, specifically phosphatidylcholine (1639 mg), phosphatidylinositol (998 mg) and other phospholipids, as well as vitamins, minerals and unsaturated fatty acids.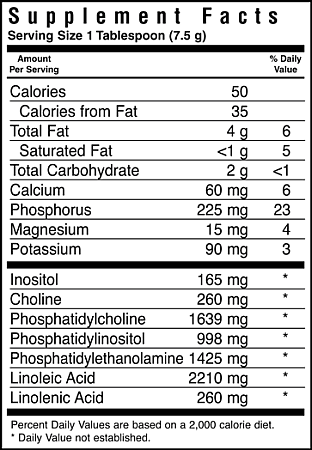 Directions: As a dietary supplement, take 1 tablespoon daily, or as directed by a healthcare practitioner.

Other Ingredients: Soy Lecithin Granules.

Contains: Soybeans

Free Of: milk, egg, fish, crustacean shellfish, tree nuts, peanuts, wheat, corn, yeast, gluten, barley, rice, sodium and sugar.

Vegetarian. Gluten Free.