Bluebonnet Skinny Garcinia 60 Vcaps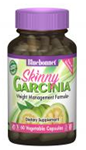 SKU: BB1102
UPC Code: 743715011021
Weight: 0.56
Bluebonnet Skinny Garcinia 60 Vcaps
1
Average rating:

Write a review
|
Read all reviews
NourishingFoods Price:$22.36
Retail Price: $27.95
SAVE: 20%
Bluebonnet's Skinny Garcinia™ Vegetable Capsules are specially formulated with the patented South Asian fruit extract, Garcinia cambogia, known as Super CitriMax® that is standardized to 60% [750 mg] hydroxycitric acid (HCA) and also include L-carnitine, chromium, choline, inositol, vitamin B6, methionine, plus important electrolytes. When combined with proper diet and exercise, this caffeine-free, non-stimulant formula may help support healthy weight management by burning fat, supporting healthy blood sugar levels already within normal range, and curbing appetite. Available in easy-to-swallow vegetable capsules for maximum assimilation and absorption.♦


Three (3) Capsules Contain:
Vitamin B6 (as pyridoxine HCI) - 25 mg

Magnesium (as oxide, citrate) - 50 mg

Chromium (as picolinate) - 200 mcg

Potassium (as citrate) - 50 mg

Garcinia Cambogia Fruit Rind Extract (Super CitriMax®) [750 mg (60%) hydroxycitric acid (HCA)] - 1250 mg

L-Carnitine Tartrate (free-form) - 500 mg

Choline Bitartrate - 50 mg

Inositol - 50 mg

L-Methionine - 50 mg


Directions: As a dietary supplement, take 3 capsules daily, preferably with a meal, or as directed by a healthcare practitioner.

Other Ingredients: Kosher vegetable capsules, vegetable magnesium stearate, silica.

Free Of: milk, egg, fish, crustacean shellfish, tree nuts, peanuts, wheat and soybeans, corn, yeast, gluten, barley, rice, sodium and sugar.

Kosher. Vegetarian/Vegan. Gluten Free. Soy Free.

Bluebonnet KOF-K Certification #K-0000700


Bluebonnet Skinny Garcinia 60 Vcaps
1
Average rating:

Write a review
|
Read all reviews
Featured positive reviews:
Bluebonnet Skinny Garcinia 60 Vcaps

USER
01/25/2017
I STARTED TAKING THESE 3 WEEKS AGO I HAVE LOST 9 POUNDS FOR A 58 YEAR OLD GOING THRUGH MENAPAUSE THATS GREAT.I DIDNT KNOW THAT ITS A DETOX BOY DOES IT DETOX YOU. CURBS MY HUNGER .GREAT PRODUCT I RECOMEND TO ANYONE TRYING TO LOSE WEIGHT . PRODUCT WORTH EVERY DOLLAR.