Bluebonnet Super Boron Bone Formula 240 Vcaps
NourishingFoods Price:$34.36
Retail Price: $42.95
SAVE: 20%
Bluebonnet's Super Boron Bone Formula Vcaps provide 1000 mg of calcium, 400 mg of magnesium, 3 mg of boron along with several other complementary minerals and nutrients important as well as potassium, zinc, manganese, copper, vitamin D3, ipriflavone and soy isoflavone extract. Available in easy-to-swallow vegetable capsules for maximum assimilation and absorption.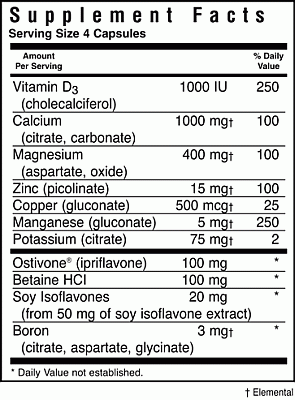 Directions: As a dietary supplement, take 4 capsules daily, preferably with a meal, or as directed by a healthcare practitioner.

Other Ingredients: 100% Kosher vegetable capsules, vegetable cellulose, vegetable magnesium stearate.

Free Of: milk, egg, fish, crustacean shellfish, tree nuts, peanuts, wheat, yeast, gluten, barley, rice, sodium and sugar.

Gluten Free.