Bluebonnet Super Earth Rainforest Animalz® DHA 100 mg 90 Fish Shaped Softchews
NourishingFoods Price:$16.76
Retail Price: $20.95
SAVE: 20%
If children grew up in the rainforest, they'd get most of the nutrients for proper brain and eye health from whole foods like fruits, vegetables, whole grains and fish. Nutrients that are often missing from today's diets. Bluebonnet Super Earth® Rainforest Animalz® DHA 100 mg helps bridge this nutrient gap, providing the critical omega-3 fatty acid, DHA (docosahexaenoic acid), in one yummy fish-shaped softchews. Natural Fruit Punch Flavor.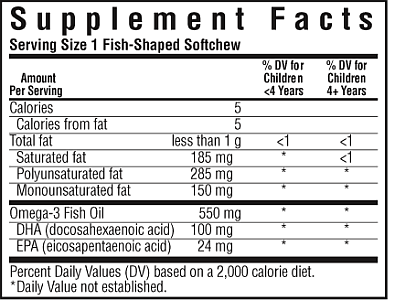 Other Ingredients: Gelatin, glycerin, purified water, natural fruit flavors, xylitol, cellulose, mixed tocopherols.

Contains: Fish (tuna), soybeans.

Free Of: milk, egg, crustacean shellfish, tree nuts, peanuts, wheat, corn, yeast, gluten, barley, rice and sodium.

CAUTION: To be chewed only. Not intended to be swallowed whole. Store in a cool, dry place, tightly sealed. This product has been cold-water extracted and steam-distilled to virtually eliminate heavy metals, PCBs and other contaminants.

Gluten Free.