Bluebonnet Astaxanthin 4 mg 60 Softgels
NourishingFoods Price:$25.20
Retail Price: $31.50
SAVE: 20%
Bluebonnet's Astaxanthin 4 mg Vegetarian Softgels provide a pharmaceutical-grade, vegetable-based astaxanthin in a complex of other important carotenoids like beta-carotene, canthaxanthin and lutein from marine algae (Haematococcus pluvialis) that is sustainably sourced. Astaxanthin is a natural carotenoid that provides the pink-to-red pigments found in plants and fish. Available in easy-to-swallow vegetarian softgels for a truly vegetarian formula from the inside and out.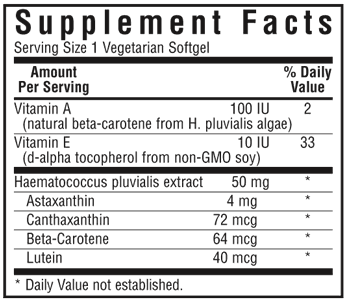 Directions: As a dietary supplement, take 1 softgel daily, or as directed by a healthcare practitioner.

Other Ingredients: Safflower oil, soluble food starch, sea vegetable extract, water, glycerin, mixed tocopherols.

Contains: Soybeans.

Free Of: milk, egg, fish, crustacean shellfish, peanuts, tree nuts, wheat, yeast, gluten, barley, rice, sodium and sugar.

Vegetarian. Gluten Free.