Dr. Wilson's Super Adrenal Stress Formula 90 Caplets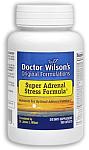 SKU: FF00115
UPC Code: 856538001152
Weight: 0.44

NourishingFoods.com is the number one online retailer of Dr. Wilson's products. Try us and find out why we're number one!
Save Even More On This Product!!
CLICK HERE to activate the coupon, or enter FF in the Coupon Code box at check out. You must use the coupon to get the extra discount.
NOTE: NOT AVAILABLE FOR SHIPMENT TO AUSTRALIA OR NEW ZEALAND.
NourishingFoods Price:$35.06
Retail Price: $38.95
SAVE: 10%
Stress increases the body's need for nutrients, especially those necessary to sustain the healthy adrenal hormone production that is essential to the ability to cope with stress and maintain homeostasis.* Super Adrenal Stress Formula is a unique nutritional supplement formulated by Dr. Wilson specifically to aid in stress recovery and support physiological balance during times of stress and/or adrenal fatigue by providing nutrients essential for optimal adrenal function.

Natural nutrient formula

Supplies specific vitamins and minerals necessary for energy and healthy adrenal hormone production

Integrated sustained release to minimize loss through excretion and maximize cellular uptake

Nutrients provided in forms that optimize absorption and utilization by adrenal glands

Sufficient amounts of each nutrient for effective support during stress and/or adrenal fatigue

Synergistic combination enhances efficacy of individual nutrients

Vegetarian

One of the four original products in Dr. Wilson's Program for Adrenal Fatigue & Stress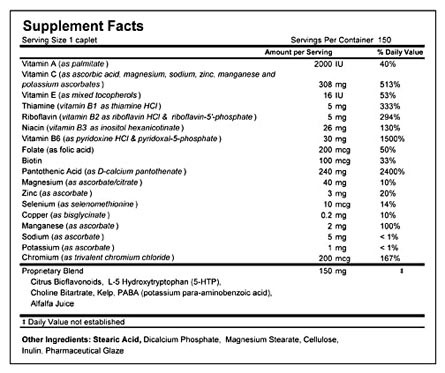 Ingredients - A specific blend of vitamin A, vitamin C, vitamin E, vitamin B1, vitamin B2, vitamin B3, vitamin B5, vitamin B6, biotin, folic acid, magnesium, manganese, zinc, chromium, copper, selenium, bioflavinoids, L-5 hydroxytryptophan, choline, kelp, and potassium para-aminobenzoic acid.

Other Ingredients: Dicalcium Phosphate, Cellulose, Inulin, Carbomer, Steric Acid, Magnesium Stearate, Pharmaceutical Glaze.

Vegetarian Formula

Directions for use - 1-5 caplets per day or as directed by your health practitioner.

Quality and purity - Super Adrenal Stress Formula is VEGAN and DAIRY-FREE. It contains NO animal products, milk, egg, salt, sugar, wheat, gluten, yeast, corn, soy, or artificial coloring, flavoring or preservatives.




Dr. Wilson's Original Formulations™