Dr. Wilson's Adrenal C Formula 90 Caplets
SKU: FF00101
UPC Code: 856538001015
Weight: 0.44

NourishingFoods.com is the number one online retailer of Dr. Wilson's products. Try us and find out why we're number one!
Save Even More On This Product!!
CLICK HERE to activate the coupon, or enter FF in the Coupon Code box at check out. You must use the coupon to get the extra discount.
NOTE: NOT AVAILABLE FOR SHIPMENT TO AUSTRALIA OR NEW ZEALAND.
NourishingFoods Price:$25.16
Retail Price: $27.95
SAVE: 10%
Vitamin C complex uniquely designed for stress and adrenal fatigue.*

Stress dramatically increases the need for vitamin C, especially in the adrenal glands. Adrenal C Formula is a vitamin C complex uniquely designed by Dr. Wilson for stress and adrenal fatigue, and is also a superior vitamin C supplement for general everyday use.*

Optimum amount of vitamin C your body can readily utilize*

Integrated sustained release to minimize loss and maximize amount in your cells where it's used*

Buffered with minerals to reduce excess acidity of vitamin C

Specific calming trace minerals that support adrenal function and antioxidant formation*

Bioflavonoids in amounts that optimally enhance effectiveness of vitamin C*

Vegetarian

One of the four original products in Dr. Wilson's Program for Adrenal Fatigue & Stress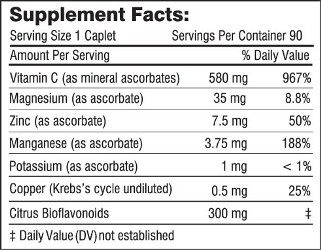 Suggested Usage: for use: 1-4 tablets a day or as recommended by your health practitioner.

Ingredients: A proprietary blend of ascorbic acid, magnesium, zinc, manganese, copper and citrus bioflavonoids.

Other Ingredients: Dicalcium Phosphate, Cellulose, Inulin, Carbomer, Magnesium Stearate, Pharmaceutical Glaze.

Contains no animal products

Quality and purity: Adrenal C Formula is a completely natural dietary supplement. It contains no sugar, yeast, corn, wheat, soy, dyes, coloring agents, egg, dairy or animal products.