Dr. Wilson's Blister-Free Forever™ 45 Capsules
SKU: FF00118
UPC Code: 856538001183
Weight: 0.25

NourishingFoods.com is the number one online retailer of Dr. Wilson's products. Try us and find out why we're number one!
Save Even More On This Product!!
CLICK HERE to activate the coupon, or enter FF in the Coupon Code box at check out. You must use the coupon to get the extra discount.
NOTE: NOT AVAILABLE FOR SHIPMENT TO AUSTRALIA, NEW ZEALAND OR SOUTH AFRICA.
NourishingFoods Price:$37.76
Retail Price: $41.95
SAVE: 10%
Help for people experiencing herpes outbreaks*

It is estimated that 90% of the population worldwide has been exposed to the type 1 herpes virus (primarily manifested as common cold sores) and approximately 25% of women and 20% of men in the United States, and 86 million people worldwide are infected with the type 2 herpes virus (primarily manifested as genital herpes, although type 1 can also be the cause).* Research has established that weaknesses in certain parts of the immune system are primarily responsible for herpes outbreaks.* Even the prodromal symptoms such as local tingling of the skin, fatigue, depression and lethargy have been shown to be attributable to these immune deficiencies.*

Blister-Free Forever™ is an amazingly effective, natural product that utilizes homeopathic, botanical and biological processes to strengthen these specific weaknesses in immune function to help dramatically reduce both the severity and the frequency of outbreaks.* This unique supplement truly is different.* Most herpes therapies either stimulate a brief immune response or temporarily suppress activity of the herpes virus, but this formula has a unique ability to support and progressively strengthen immune function over time.* It does much more than simply reduce the duration and severity of ongoing outbreaks; it safely enhances the body's immune response to help support healthy skin and contribute to a sense of well-being.* This improved immune function helps decrease the frequency of outbreaks so successfully that many people who take it regularly never experience another one!*

To best optimize the immune response, it is important to take Blister-Free Forever™ daily for at least 2-3 months.* Although it starts acting right away, it takes several weeks for it to begin working deeply.* Just like exercise, it produces the best results when given the chance to strengthen over time.* After several months of daily use, usually just half the amount taken daily will still provide the same benefits.* However if the immune system needs extra support at any time, such as during an outbreak, increasing the daily intake may greatly speed recovery.* This unique product maintains its effectiveness, even when taken continuously for years.* In fact, the longer it is taken, the better it works.*

Although the herpes virus can remain dormant for long periods of time, anything that suppresses the immune system can lead to its reactivation. Stress, especially when it lowers adrenal function (adrenal fatigue), is one of the most common factors negatively affecting optimal immune system health. This is why infection outbreaks such as herpes noticeably increase with stresses such as strong emotions, sunburn and the prolonged use of corticosteroid drugs. If high stress levels or adrenal fatigue are present, use Blister-Free Forever™ in combination with the Future Formulations products Adrenal Rebuilder Formula™ and Super Adrenal Stress Formula™ and Herbal Adrenal Support Formula™ for optimum results.*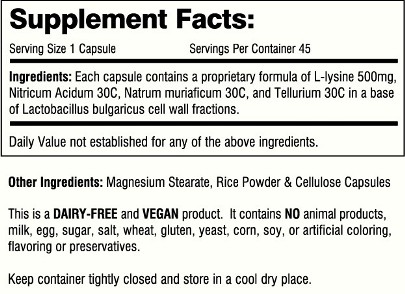 Suggested Usage: For extra support before or during an outbreak take 2-4 capsules/day until outbreak subsides, then decrease to 1-2/day. Maintenance: 1 capsule/day. If any symptoms begin, increase dosage immediately to 2-4 capsules/day. Best taken on an empty stomach. This product is most effective when taken daily on a continuous basis. Note that the absence of lesions makes transmission of the virus less likely but it is still a possibility - so always take the necessary precautions.

Ingredients: A proprietary blend containing: L-lysine, lactobacillus, peptidoglycan, lipopolysaccaride, glucosamine, acetylmuranic acid, murein,* and homeopathic remedies Sepia 12X, & and Telluriaum Metallicum 20C.

Quality and purity: Blister-Free Forever™ is a natural dietary supplement that contains NO sugar, yeast, corn, wheat, soy, dyes, coloring agents, egg, dairy or animal products.

Side effects: The ingredients in Blister-Free Forever™ have no known detrimental side effects when used as directed. Quality and purity - Blister-Free Forever™ is a natural dietary supplement that contains NO sugar, yeast, corn, wheat, soy, dyes, coloring agents, egg, dairy or animal products.