Dr. Wilson's Inner Healing 90 Capsules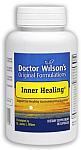 SKU: FF00124
UPC Code: 856538001244
Weight: 0.31

NourishingFoods.com is the number one online retailer of Dr. Wilson's products. Try us and find out why we're number one!
Save Even More On This Product!!
CLICK HERE to activate the coupon, or enter FF in the Coupon Code box at check out. You must use the coupon to get the extra discount.
NOTE: NOT AVAILABLE FOR SHIPMENT TO AUSTRALIA, NEW ZEALAND OR SOUTH AFRICA.
NourishingFoods Price:$28.76
Retail Price: $31.95
SAVE: 10%
The lining of your stomach and intestines is critical to your health, acting as a front-line immune defense and barrier protecting the tissues underneath, and facilitating nutrient absorption. Dr. Wilson created Inner Healing to actively promote healthy tissues, membrane integrity, and comfort along your entire digestive tract from stomach to rectum.*

Nutrient and botanical formula

Promotes replenishment of soothing, protective coating along digestive tract*

Supports healthy cell structure in the lining and underlying layer of tissues*

Supports tissue repair in the stomach and intestines*

Specially selected antioxidants help protect tissues from free radical damage and inflammation*

Promotes comfort in stomach and intestines

Vegetarian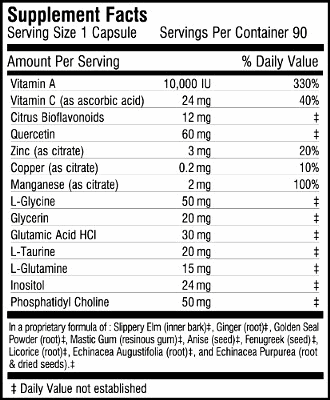 Directions for use: 1-2 capsules 3 times a day on an empty stomach. Take regularly and consistently for best results.

Other Ingredients: Magnesium Stearate, Microcrystalline Cellulose, Silicon Dioxide and Cellulose Capsules.

Side effects: The ingredients in Inner Healing® have no known detrimental side effects when used as directed.

Quality and purity: Inner Healing® is a DAIRY-FREE and VEGAN formula. It contains NO animal products, milk, egg, sugar, salt, wheat, gluten, yeast, corn, soy or artificial coloring, flavoring or preservatives.