Dr. Wilson's Land, Sea & Air® 45 Capsules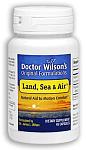 SKU: FF00117
UPC Code: 856538001176
Weight: 0.25

NourishingFoods.com is the number one online retailer of Dr. Wilson's products. Try us and find out why we're number one!
Save Even More On This Product!!
CLICK HERE to activate the coupon, or enter FF in the Coupon Code box at check out. You must use the coupon to get the extra discount.
NOTE: NOT AVAILABLE FOR SHIPMENT TO AUSTRALIA, NEW ZEALAND OR SOUTH AFRICA.
NourishingFoods Price:$15.26
Retail Price: $16.95
SAVE: 10%
Natural aid to motion comfort without side-effects.

For some people, traveling in cars, boats or planes can be a miserable experience. Dr. Wilson created Land, Sea and Air in response to numerous requests for a formula that would help maintain a sense of well-being and comfort during motion.*

Simple yet very effective ingredients

Ingredients work synergistically to enhance motion comfort*

No negative side effects

Small capsules

Convenient bottle size to keep with you while traveling

Vegetarian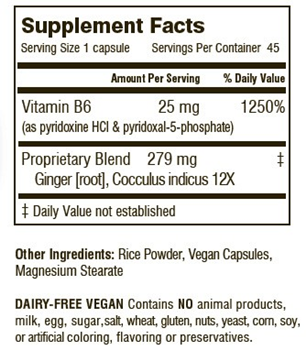 Suggested Usage: Adults take 2 capsules and children take 1 capsule thirty minutes before departure, or as needed, with a glass of water. Can be taken every four hours. As a precaution pregnant women should not take more than 4 capsules in 24 hours.

Ingredients: A proprietary formula in small, easy to swallow capsules containing: vitamin B-6, and a proprietary blend of ginger & Cocculus Indicus.

Quality and purity: Land, Sea & Air® is a completely natural vegetarian dietary supplement. It is DAIRY-FREE and contains NO animal products, milk, egg, salt, wheat, gluten, yeast, corn, soy, or artificial coloring, flavoring or preservatives.

Side effects: The ingredients in Land, Sea & Air® have no known detrimental side effects when used as directed.