Dr. Wilson's Nat-Stim® 45 Capsules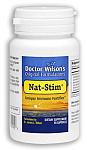 SKU: FF00105
UPC Code: 856538001053
Weight: 0.19

NourishingFoods.com is the number one online retailer of Dr. Wilson's products. Try us and find out why we're number one!
Save Even More On This Product!!
CLICK HERE to activate the coupon, or enter FF in the Coupon Code box at check out. You must use the coupon to get the extra discount.
NOTE: NOT AVAILABLE FOR SHIPMENT TO AUSTRALIA, NEW ZEALAND OR SOUTH AFRICA.
NourishingFoods Price:$31.46
Retail Price: $34.95
SAVE: 10%
Natural Aid To Strong Immunity.*

Nat-Stim® is a unique immune enhancer developed by scientists affiliated with the World Health Organization to significantly help maintain health.* Derived from a special immune-enhancing, fortified strain of lactobacillus, Nat-Stim® is designed to naturally build and provide long term support for strong immune function and promote healthy immune response in a variety of everyday situations.*

"I've seen such dramatic differences in my patient's recovery time and immune function since I began recommending Nat-Stim®. As my youngest son said, 'Dad, I never want to be without Nat-Stim® again!'" Dr. James L. Wilson

The secret to remaining well is to have vigorous immune function, especially in your lungs, bronchi, throat, nose and intestines. Nat-Stim® was designed to promote strong reliable immunity specifically in these areas.* This very unique NATural immune STIMulator provides long term support for healthy immune function and optimal immune defense.*

Using a novel, proprietary method that took years to perfect, the scientists who developed Nat-Stim® derived immune enhancing cell wall fractions from a special strain of Lactobacillus bulgaricus, a naturally occurring friendly bacterium found in healthy intestinal tracts and in some probiotic foods like yogurt. They used a proprietary method to combine these cell wall fractions to create a powerful immune enhancer that produces safe, natural but strong immune support for the lungs, bronchi, throat, nose and intestines.* Nat-Stim® is designed to enhance both specific and general aspects of immune function necessary to maintaining health, with effects that build and deepen over time.* In addition, because Nat-Stim® helps promote a strong immune response, it also helps cut down recovery time.*

Nat-Stim® is not a pharmaceutical and does not work like a drug. It helps invigorate, build up and support the body's own immune processes naturally over time, even when taken for extended periods.* It is designed for regular, daily use to help maintain optimal immune protection without losing its effectiveness over time.* In contrast, most immune-enhancing products only offer limited, temporary help.* In fact, in our experience, the longer you use Nat-Stim® the better it works.* Many people have had outstanding success using Nat-Stim®.*

One of the smartest things our family has done is to take Nat-Stim® regularly. We have found that it takes about 2-3 weeks for it to begin taking effect. Just like exercise, it produces the best results when given the chance to work over time.* The most critical periods for increasing immune support are in the weeks preceding and during times of greater demands on your immune system, such as winter and travel.* For children and adults who are around children, this also includes summer swimming pool use, camp attendance and the seasonal return to school or daycare. The small Nat-Stim® capsules are very easy for adults to swallow, but young children should not be given whole capsules. It's never too late or too early to start supporting your immune function.* Once you try Nat-Stim® you'll never want you, or anyone you care about, to be without it!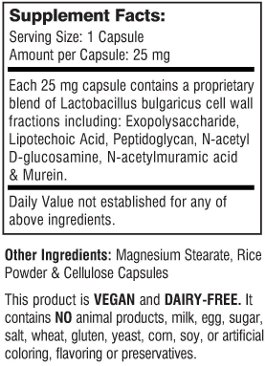 Suggested Usage: Take 1-2 capsules a day with water or juice 30 minutes before breakfast or on an empty stomach, or as otherwise directed by your health practitioner. If swallowing capsules is difficult, open the capsules and mix the mild tasting contents into any beverage or soft food. After taking regularly for 3 months, most people can usually switch to half the daily amount and still maintain good immune enhancement.* For best results take consistently throughout the year, and especially when extra immune support is desired. If you need more support for immune system function, take double the normal amount.*

Ingredients - Each 25 mg capsule contains a proprietary blend of cell wall fractions from Lactobacillus bulgaricus including: exopolysaccharide, lipotechoic acid, peptidoglycan, N-acetyl D-glucosamine, N-acetylmuramic acid, murein, magnesium stearate, & rice powder.

Nat-Stim® is in cellulose capsules and contains no animal products.

Quality and purity - Nat-Stim® is a completely natural vegetarian dietary supplement. It is DAIRY-FREE and contains NO animal products, milk, egg, sugar, salt, wheat, gluten, yeast, corn, soy, or artificial coloring, flavoring or preservatives.

Side effects: We have received no reports of adverse side effects from this immune booster.