Dr. Wilson's Squeaky Clean 90 Capules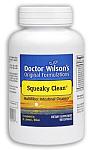 SKU: FF00112
UPC Code: 856538001121
Weight: 0.31

NourishingFoods.com is the number one online retailer of Dr. Wilson's products. Try us and find out why we're number one!
Save Even More On This Product!!
CLICK HERE to activate the coupon, or enter FF in the Coupon Code box at check out. You must use the coupon to get the extra discount.
NOTE: NOT AVAILABLE FOR SHIPMENT TO AUSTRALIA OR NEW ZEALAND.
NourishingFoods Price:$25.16
Retail Price: $27.95
SAVE: 10%
Gentle and complete intestinal cleanser, detoxifier and conditioner.*

Healthy intestinal function and a balanced intestinal environment are essential to your overall health and proper immune function, yet a variety of lifestyle factors can sometimes make this difficult to maintain.* Dr. Wilson created Squeaky Clean to bring together into one carefully balanced product, a complete range of natural ingredients that work together to promote and revitalize optimal intestinal function, support overall intestinal health and gently promote regularity.*

8 different types of natural dietary fiber for thorough cleansing and evacuation*

5 herbs to gently promote regularity and support healthy intestinal walls*

Organic psyllium seed and bentonite clay to absorb toxins and help soothe intestinal linings*

Proteolytic enzymes to help break down proteins and mucus buildup*

3 strains of probiotics to replenish friendly bacteria for healthy intestinal balance*

Synergistic action comprehensively promotes and supports healthy intestinal function and nutrient absorption without dependency*

Convenient capsules

Sugar-free

Vegetarian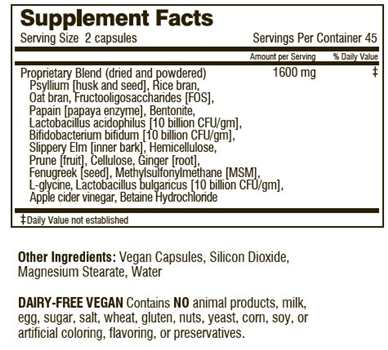 Ingredients - A proprietary formula in cellulose (vegetable source) capsules containing: organic pysllium seed and husks, brown rice husks and bran, oat bran, plantago, bentonite, vegetable cellulose, papaya enzymes, Lactobacillus acidophilus, Bifidobacterium infantus, hemicellulose, slippery elm, prune concentrate, ginger, fenugreek, fructooligosaccharides (FOS), and Lactobacillus bulgaricus in a base of apple cider vinegar and betaine hydrochloride.

Vegetarian (Vegan) Formula

Directions: Adults and children 12 years of age and over take 1-3 capsules (or pull capsule apart and rapidly blend contents) with 8 oz. of juice or water, followed by an additional 8 oz. glass of water. Take before bed and/or upon rising at least one half hour before or 2 hours after eating. If minor bloating or gas occurs, try temporarily decreasing amount. It is best to drink at least 6 to 8 additional glasses of water throughout the day to facilitate healthy intestinal function.* This formula works gently with the natural processes of elimination, and evacuations may not occur until 24-72 hours after first taking it. As a result, some people may experience a temporary feeling of fullness. When the intestines are detoxifying it is common for eliminations to contain putrefactive strings, solid particles and ropey mucus strands.

Side effects - The ingredients in Squeaky Clean have no known detrimental side effects when used as directed.

Quality and purity - Squeaky Clean is a natural vegetarian (vegan) dietary supplement. It is dairy-free and contains NO animal products, sugar, yeast, wheat, gluten, corn, soy, salt, milk/dairy, egg, starch, artificial coloring, flavoring, sweeteners or preservatives.

NOTICE: This supplement should be taken with at least a full glass of liquid. Consuming this product without enough liquid may cause choking. Do not consume this product if you have difficulty swallowing.