Life-flo Progesta-Care Body Cream 4 Ounce (113g) Pump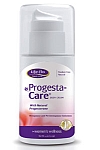 SKU: LIF81004
UPC Code: 645951810041
Weight: 0.5




Value Size!!


Natural solution for menopause and peri-menopause. Natural Progesterone cream free of synthetics including Parabens. With measured Dosage Pump.

Life-flo™
NourishingFoods Price:$26.40
Retail Price: $36.79
SAVE: 28%
Natural solution for menopause and peri-menopause.
Natural Progesterone cream free of synthetics including Parabens.
Packaged in airtight, hygienically sealed container.
Pre-measured amount (~20mg - recommended amount by Dr. John R. Lee)
with each stroke of the pump making it easy to use with confidence.
Non-greasy and formulated for excellent absorption.


Each full press of the pump provides approximately 20 mg of natural Progesterone USP. This Progesterone cream is formulated to contain 480 mg per ounce.

Directions: Use only as directed. Apply once or twice a day as needed. Dispense cream into the palm of the hand and rub onto the skin of your chest, abdomen, inner arms, or thighs - rotating area each time. Do not use for more than 3 weeks out of a month.

Ingredients: Purified Water, Aloe Barbadensis, Glycerin, Helianthus Annuus (Sunflower) Seed Oil, Butyrospermum Parkii (Shea Butter), Stearic Acid, Glyceryl Stearate, Progesterone USP, Stearyl Alcohol, Caprylic/Capric Triglyceride, Isopropyl Palmitate, Phenoxyethanol and Caprylyl Glycol, Elaeis Guineensis (Palm) Oil (and) Tocotrienols (and) Tocopherol, Oenothera Biennis (Evening Primrose) Oil, Lecithin, Sodium Hyaluronate (HA), Methylsulfonylmethane (MSM), Potassium Sorbate, Allantoin, Arctium Lappa (Burdock) Root Extract, Vitis Vinifera (Grape) Seed Extract, and Sodium Bicarbonate.

Life-flo™