Michael's Male Reproductive Factors™ 60 Tablets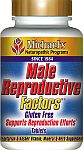 SKU: MC01270
UPC Code: 755929012701
Weight: 0.38



A unique specialty formula to support male fertility while promoting a strong and healthy conception.ª Supports normal sperm health, count and motility.ª

NourishingFoods Price:$18.15
Retail Price: $29.89
SAVE: 39%
Contains the nutrients essential for sperm productionª
Contains nutrients essential for functioning of the
reproductive organs and processes, including a healthy conceptionª
Contains Opti-Zinc®


A unique specialty formula to support male fertility while promoting a strong and healthy conception.ª Supports normal sperm health, count and motility.ª
Three Tablets Contain:
Vitamin A (Beta Carotene) - 5000 IU
Vitamin C (as Calcium Ascorbate) - 750 mg
Vitamin E (as d-alpha Tocopheryl Succinate) - 375 IU
Niacinamide (as Nicotinamide) - 100 mg
Folic Acid (as Folacin) - 400 mcg
Vitamin B-12 (as Cobalamin) - 250 mcg
Pantothenic Acid (as Calcium Pantothenate) - 100 mg
Calcium (as Calcium Amino Acid Chelate) - 60 mg
Magnesium (as Magnesium Amino Acid Chelate) - 50 mg
Zinc (as Zinc Monomethionine**) - 100 mg
Selenium (as L-Selenomethionine) - 50 mcg
Manganese (as Manganese Amino Acid Chelate) - 25 mg

Proprietary Blend: Damiana Leaf (Turnera
aphrodisiaca), Aletris Root (Aletris farinosa), Oriental
Ginseng Root (Panax ginseng), Inositol, Arginine (as L-
Arginine), Glutamine (as L-Glutamine), Fenugreek Seed
(Trigonella graecum), Sarsaparilla Root (Smilax
officinalis), Saw Palmetto Berry (Serenoa serrulata),
Cysteine (as L-Cysteine), Methionine (as L-Methionine
Hydrochloride), Clove (Flower Bud)(Caryophyllum
aromaticus) - 1.0 g


Suggested Usage: As a special dietary supplement, take three (3) tablets with breakfast or, for optimal results, take two (1) tablet with each meal. Dosage may be increased as directed by a healthcare practitioner.

Other Ingredients: Dicalcium Phosphate, Terra Alba (Calcium Sulfate), Maltodextrin and Stearic Acid.

Made in a GMP facility that processes egg, fish, milk, shellfish, soy, tree nut & wheat products.

CAUTION: Not to be taken by pregnant or lactating women. Keep out of reach of children.

Vegetarian. Kosher.
Michael's®