Michael's Antisid™ 60 Chewable Wafers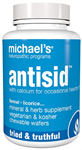 SKU: MC01212
UPC Code: 755929012121
Weight: 0.38



For relief of occasional heartburn.
NourishingFoods Price:$9.10
Retail Price: $14.99
SAVE: 39%
Excellent for the relief of sour stomach, occasional heart burn and indigestion.
With Calcium and an assortment of soothing herbs.


3 Tablets Contain:
Calcium (as Calcium Carbonate) - 40 mg

Proprietary Blend: Cabbage Powder (Leaf)(Brassica
oleracea), Marshmallow Root (Althea officinalis), Slippery
Elm Bark (Ulmus rubra), Fennel Seed (Foeniculum vulgare),
Licorice Root (Glycyrrhiza glabra), Okra (Leaf)(Hibiscus
esculentus), Wild Cherry Bark (Prunus serotina) - 1.06 g


Other Ingredients: Fructose, Stearic Acid, Magnesium Stearate, Natural Cherry Flavor and Silica.

Vegetarian. Kosher.
Michael's®