Michael's Fat Metabolism Factors™ 90 Tablets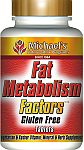 SKU: MC03600
UPC Code: 755929036004
Weight: 0.44



Use as part of your weight loss plan for long-term weight management.ª Provides nutrients for fluid balance.ª

NourishingFoods Price:$13.35
Retail Price: $21.99
SAVE: 39%
Provides nutrients for the metabolism of fats and cholesterol ª
Supports fluid levels ª
Contains no stimulants, such as ephedra, ma huang or caffeine
Vegetarian
Contains ChromeMate® and Gugulipid®


Use as part of your weight loss plan for long-term weight management.ª Provides nutrients for fluid balance.ª
Three Tablets Contain:
Vitamin B-6 (as Pyridoxine) 100 mg
Iodine (from Kelp) 225 mcg
Chromium (as Chromium Polynicotinate***) - 200 mcg
Potassium (as Potassium Amino Acid Complex) - 210 mg

Proprietary Blend: Lecithin (from Soy), Choline (as
Choline Bitartrate), Inositol, Chickweed Leaf (Stellaria
media), Sea Wrack Leaf (Fucus vesiculosus), Guggul Gum**
(from Commiphora mukul)(2.5% Guggulsterones), Methionine
(as L-Methionine Hydrochloride), Phenylalanine (as L-
Phenylalanine), White Ash Bark (Fraxinus americana) - 2.43 g (2,430 mg)


Suggested Usage: As a special dietary supplement, take three (3) tablets with breakfast, or for optimal results, take one (1) tablet with each meal. Dosage may be increased as directed by a healthcare practitioner.

Other Ingredients: Dicalcium Phosphate, Maltodextrin, Stearic Acid and Vegetable Stearate.

Made in a GMP facility that processes egg, fish, milk, shellfish, soy, tree nut & wheat products.

CAUTION: Contains phenylalanine and should be avoided by phenylketonurics and women who are pregnant or lactating.

Vegetarian. Gluten Free. Kosher.
Michael's®