Michael's For Men 90 Tablets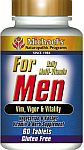 SKU: MC04001
UPC Code: 755929040018
Weight: 0.5



A daily formula of nutrients and herbs for men.

NourishingFoods Price:$18.20
Retail Price: $29.99
SAVE: 39%
A daily formula of nutrients and herbs for men
Provides essential nutrients for a healthy male bodyª
Contains herbs that have been traditionally used by males for health
High doses of choline, inositol and niacin
Ideal for the physically active man
Contains Saw Palmetto and Ginseng


Vegetarian, Kosher, and Gluten-free Daily Multi-Vitamin for men.
2 Tablets Contain:
Vitamin A (as Beta Carotene) - 15,000 IU
Vitamin C (as Calcium Ascorbate) - 300 mg
Vitamin D (as Calciferol) - 400 IU
Vitamin E (as d-alpha Tocopheryl Succinate) - 200 IU
Thiamin - 75 mg
Riboflavin - 75 mg
Niacin (as Niacinamide) - 150 mg
Vitamin B-6 (as Pyridoxine) - 75 mg
Vitamin B-12 (as Cobalamin) - 500 mcg
Biotin - 500 mcg
Pantothenic Acid (as Calcium Pantothenate) - 150 mg
Folic Acid (as Folacin) - 400 mcg
Iodine (from Kelp) - 150 mcg

Proprietary Blend: Saw Palmetto Berry (Serenoa
serrulata), Sarsaparilla Root (Smilax officinalis),
Bioflavonoids (from Citrus), Choline (as Choline
Bitartrate), Inositol, Essential Fatty Acids (from Flax
Seed)(7% gamma Linolenic Acid, 64% Linoleic Acid), Damiana
Leaf (Turnera aphrodisiaca), Dandelion Root (Taraxacum
officinale), Oriental Ginseng Root (Panax ginseng),
Licorice Root (Glycyrrhiza glabra), Pumpkin Seed
(Cucurbita pepo), PABA (Para-aminobenzoic Acid), Parsley
Leaf (Petroselinum sativum), Betaine Hydrochloride, Hesperidin, Rutin - 1.66 g*


Other Ingredients: Dicalcium Phosphate, Maltodextrin, Stearic Acid and Magnesium Stearate.

Vegetarian. Kosher. Gluten-free.
Michael's®