Michael's Hair, Skin, & Nails Complex™ 90 Tablets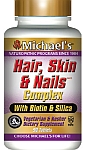 SKU: MC01107
UPC Code: 755929011070
Weight: 0.56



With MSM, biotin & silica. Vegetarian and kosher.

NourishingFoods Price:$13.35
Retail Price: $21.99
SAVE: 39%
Contains nutrients for the skin and connective tissuesª
High in key antioxidants - A, C, E & zinc
Contains Opti-Zinc® with MSM, silica and biotin


With MSM, biotin & silica.
3 Tablets Contain:
Vitamin A (as Beta Carotene) - 10,000 IU
Vitamin C (as Ascorbic Acid) - 300 mg
Vitamin E (as d- alpha- Tocopheryl Succinate) - 200 IU
Niacin (as Niacinamide) - 30 mg
Vitamin B-6 (as Pyridoxine Hydrochloride) - 15 mg
Vitamin B-12 (as Cyanocobalamin) - 18 mcg
Biotin - 100 mcg
Pantothenic Acid (as Calcium Pantothenate) - 30 mg
Calcium (as Citrate) - 400 mg
Iodine (from Kelp) - 225 mcg
Magnesium (as Gluconate, Aspartate) - 200 mg
Zinc (as Zinc Monomethionine**) - 15 mg
Copper (as Gluconate) - 2 mg
Manganese (as Gluconate) - 9 mg
Potassium (as Aspartate) - 100 mg

Proprietary Blend: Bioflavonoids (from Citrus), Horsetail
(Whole Plant)(Equisetum arvense), MSM
(Methylsulfonylmethane), Red Clover Flower(Trifolium
pratense), Burdock Root (Arctium lappa), Choline (as
Choline Bitartrate), PABA (Para- aminobenzoic Acid),
Lecithin (from Soy), Betaine Hydrochloride, Inositol,
Ferrum Phosphoricum, Silicea, Calcarea Fluorica, Calcarea Sulphurica - 917 mg*


Other Ingredients: Dicalcium Phosphate, Terra Alba (Calcium Sulfate), Stearic Acid, Magnesium Stearate.

Vegetarian. Kosher.
Michael's®