Michael's Kidney Factors™ 60 Tablets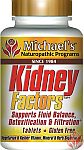 SKU: MC01132
UPC Code: 755929011322
Weight: 0.31



Supports elimination of waste through the kidneys.ª Contains Vitamin D and B-6 for proper kidney function and support of normal elimination of toxins in kidneys.ª

NourishingFoods Price:$12.15
Retail Price: $19.99
SAVE: 39%
Contains essential nutrients for kidney function and calcium processing
Contains vitamin D and B-6 with celery seed and gravel root


Supports elimination of waste through the kidneys. Contains Vitamin D and B-6 for proper kidney function and support of normal elimination of toxins in kidneys.
3 Tablets Contain:
Vitamin D (as Ergocalciferol) - 300 IU
Niacin (as Niacinamide) - 60 mg
Vitamin B-6 (as Pyridoxine) - 6 mg
Vitamin B-12 (as Cobalamin) - 30 mcg
Magnesium (as Magnesium Amino Acid Chelate) - 150 mg

Proprietary Blend: Bioflavonoids (from Citrus),
Celery Seed (Apium graveolens), Gravel Root (Eupatorium
purpureum), Hydrangea Root (Hydrangea arborescens), Juniper
Berry (Juniperus communis), Parsley Leaf (Petroselinum
sativum), Glutamine (as L-Glutamine), Glycine (as L-
Glycine), Buchu Leaf (Barosma betulina), Uva Ursi Leaf
(Arctostaphylos uva ursi), Bromelain (from Pineapple) - 2.64 g*


Suggested Usage: As a dietary supplement, take three (3) tablets with breakfast or, for optimal results, take one (1) tablet with each meal. Dosage may be increased as directed by a healthcare practitioner.

Other Ingredients: Dicalcium Phosphate, Maltodextrin, Vegetable Stearate and Stearic Acid.

Made in a GMP facility that processes egg, fish, milk, shellfish, soy, tree nut & wheat products.

CAUTION: Not to be taken by pregnant or lactating women. Keep out of reach of children.

Kosher.
Michael's®