Michael's Memory Factors™ 60 Tablets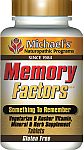 SKU: MC03308
UPC Code: 755929033089
Weight: 0.25



Contains nutrients to help improve mental focus.ª High in ginkgo biloba, this formula also contains the herbs Gotu kola and Chinese club moss, with the amino acids Tyrosine and Taurine.ª

NourishingFoods Price:$12.15
Retail Price: $19.99
SAVE: 39%
Ideal for occasional forgetfulness as well as mild memory problems associated with agingª
Support for students studying for exams or other mental challenges
Contains Opti-Zinc® with Ginkgo biloba, Chinese club moss and Gotu kola


Contains nutrients to help improve mental focus.ª High in ginkgo biloba, this formula also contains the herbs Gotu kola and Chinese club moss, with the amino acids Tyrosine and Taurine.ª
Three Tablets Contain:
Vitamin E (as d-alpha Tocopheryl Succinate) - 100 IU
Thiamin - 50 mg
Niacin (as Niacinamide and 33% Nicotinic Acid) - 150 mg
Vitamin B-6 (as Pyridoxine) - 15 mg
Folic Acid (as Folacin) - 50 mcg
Pantothenic Acid (as Calcium Pantothenate) - 5 mg
Magnesium (as Magnesium Amino Acid Chelate) - 50 mg
Zinc (as Zinc Monomethionine**) - 5 mg
Selenium (as L-Selenomethionine) - 50 mcg
Manganese (as Manganese Amino Acid Chelate) - 5 mg

Proprietary Blend: Gotu Kola (Whole Plant) (Centella
asiatica), Lecithin (from Soy), Choline (as Choline
Bitartrate), Inositol, Chinese Club Moss (Whole Plant)
(Huperzia serrata), Essential Fatty Acids (from Flax Seed)
(7% gamma Linolenic Acid, 64% Linoleic Acid), Glutamine (as
L-Glutamine), Ginkgo biloba Extract (Leaf)(24%
Flavoneglycosides, 6% Lactones), Methionine (as L-
Methionine Hydrochloride), Phosphatidylcholine (from Soy),
Tyrosine (as L-Tyrosine), Taurine, PABA (Para-
aminobenzoic Acid) - 903 mg


Suggested Usage: As a special dietary supplement, take three (3) tablets with breakfast, or for optimal results, take one (1) tablet with each meal. For those who cannot swallow tablets - simply crush tablet and mix powder in juice or food. Dosage may be increased as directed by a healthcare practitioner.

Other Ingredients: Terra Alba (Calcium Sulfate), Dicalcium Phosphate, Stearic Acid.

Made in a GMP facility that processes egg, fish, milk, shellfish, soy, tree nut & wheat products.

Kosher.
Michael's®