Michael's Blood Pressure Factors™ 60 Tablets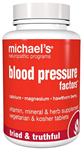 SKU: MC01192
UPC Code: 755929011926
Weight: 0.38



Contains nutrients known to nourish the systems the body uses to maintain the homeostasis of blood pressure already within normal range. Provides potassium for support of fluid balance in the body.ª

NourishingFoods Price:$13.36
Retail Price: $21.99
SAVE: 39%
Nourishes the nervous system and the cardiovascular systemª
Assists body in maintaining fluid balanceª
Provides calming nutrients such as calcium and magnesiumª
Contains both garlic and cayenne


Contains nutrients known to nourish the systems the body uses to maintain the homeostasis of blood pressure already within normal range. Provides potassium for support of fluid balance in the body.ª
Three Tablets Contain:
Vitamin D (as Calciferol) - 50 IU
Vitamin B-6 (as Pyridoxine) - 100 mg
Calcium (as Calcium Amino Acid Chelate) - 60 mg
Magnesium (as Magnesium Amino Acid Chelate) - 30 mg
Manganese (as Manganese Amino Acid Chelate) - 15 mg
Potassium (as Potassium Amino Acid Complex) - 210 mg

Proprietary Blend: Hawthorne Berry (Crataegus
oxyacantha), Apple Pectin, Garlic Clove (Powder
Concentrate) (Allium staivum), Hops Flower (Humulus
lupulus), Valerian Root (Valeriana officinalis), Taurine,
Cayenne Fruit (Capsicum annuum) & Celery Seed (Apium graveolens) - 1.73 g


Suggested Usage: As a dietary supplement, take three (3) tablets with breakfast or, for optimal results, take one (1) tablet with each meal. Dosage may be increased as directed by a healthcare practitioner.

Other Ingredients: Maltodextrin, Vegetable Stearate and Stearic Acid.

Made in a GMP facility that processes egg, fish, milk, shellfish, soy, tree nut & wheat products.

CAUTION: Not to be taken by pregnant or lactating women. Keep out of reach of children.

Kosher.
Michael's®