Michael's Digestive Enzymes 90 Capsules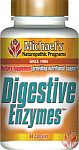 SKU: MC01160
UPC Code: 755929011605
Weight: 0.25



Supports elimination of waste through the kidneys. Contains Vitamin D and B-6 for proper kidney function and support of normal elimination of toxins in kidneys.

NourishingFoods Price:$10.90
Retail Price: $17.99
SAVE: 39%
Digestion and absorption are the keys to optimal healthª
Assist in digesting protein, fats, starch, dairy and carbohydratesª
Great for anyone with occasional digestive difficultiesª


Provides enzymes for the digestion of proteins, starches and fats. Contains extra Amylase & Lipase along with Papain and Bromelain.
Each Capsule Contains:
Proprietary Blend: Pancreatin (4X USP)**, Papain
(from Papaya), Anise Fruit (Pimpinella anisum), Fennel Seed
(Foeniculum vulgare), Rutin, Bromelain (from Pineapple)
(2400 GDU***/gm), Trypsin, Amylase, Lipase, and L-
Chymotrypsin - 401 mg


Suggested Usage: As a dietary supplement, take three (3) tablets with breakfast or, for optimal results, take one (1) tablet with each meal. Dosage may be increased as directed by a healthcare practitioner.

Other Ingredients: Gelatin, Vegetable Stearate and Stearic Acid.

Made in a GMP facility that processes egg, fish, milk, shellfish, soy, tree nut & wheat products.

Pancreatin Enzyme Profile:
Amylase...........100 USP units/mg
Lipase................20 USP units/mg
Protease..........100 USP units/mg
**United States Pharmacopeia units of enzyme activity
***Gelatin Decomposition Units
Michael's®