Michael's Water Balance Factors™ 90 Tablets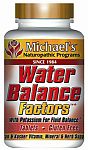 SKU: MC03606
UPC Code: 755929036066
Weight: 0.44



Use as part of your weight loss plan.ª A special combination of nutrients and herbs to support normal fluid levels.ª The nutrients B6 and potassium support the body's normal balance of sodium, which is essential to the body's normal fluid balance.ª

NourishingFoods Price:$13.35
Retail Price: $21.99
SAVE: 39%
Assists body in maintaining fluid balanceª
Great for weight managementª
Contains potassium and B-6 to support proper levels of sodiumª
With Corn silk, Buchu leaf, uva ursi and watermelon seed


Use as part of your weight loss plan.ª A special combination of nutrients and herbs to support normal fluid levels.ª The nutrients B6 and potassium support the body's normal balance of sodium, which is essential to the body's normal fluid balance.ª
Three Tablets Contain:
Vitamin B-6 (as Pyridoxine) - 150 mg
Potassium (as Potassium Amino Acid Complex) - 210 mg

Proprietary Blend: Corn Silk (Zea mays), Buchu Leaf
(Barosma betulina), Elder Flowers (Sambuccua canadensis
nigra), Hydrangea Root (Hydrangea arborescens), Uva Ursi
Leaf (Arctostaphylos uva ursi), Parsley Leaf (Petroselinum
sativum), Samphire Fruit (Crithmum maritimum), Watermelon
Seed (Citrullus vulgaris) - 2.85 g (2,850 mg)


Suggested Usage: As a special dietary supplement, take three (3) tablets with breakfast, or for optimal results, take one (1) tablet with each meal. Dosage may be increased as directed by a healthcare practitioner.

Other Ingredients: Terra Alba (Calcium Sulfate), Dicalcium Phosphate, Stearic Acid and Vegetable Stearate.

Made in a GMP facility that processes egg, fish, milk, shellfish, soy, tree nut & wheat products.

CAUTION: Not to be taken by pregnant or lactating women. Keep out of reach of children.

Gluten Free. Kosher.
Michael's®