Michael's Skin Factors™ 60 Tablets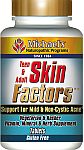 SKU: MC03311
UPC Code: 755929033119
Weight: 0.25



A combination of nutrients and herbs that works to maintain youthful looking skin by working with the body's natural functions.ª Support for mild and non-cystic acne and for overall healthy skin.ª

NourishingFoods Price:$9.70
Retail Price: $15.99
SAVE: 39%
A daily formula that works to maintain youthful looking skinª
Ideal for teenagers dealing with non-cystic acne and adults with skin appearance concernsª
Contains Opti-Zinc®


A combination of nutrients and herbs that works to maintain youthful looking skin by working with the body's natural functions.ª Support for mild and non-cystic acne and for overall healthy skin.ª
Three Tablets Contain:
Vitamin A (as Beta Carotene) - 4,500 IU
Vitamin C (as Calcium Ascorbate) - 150 mg
Vitamin E (as d-alpha Tocopheryl Succinate) - 150 IU
Niacinamide (as Nicotinamide) - 150 mg
Zinc (as Zinc Monomethionine**) - 30 mg
Selenium (as L-Selenomethionine) - 75 mcg

Proprietary Blend: Essential Fatty Acids (from Flax
Seed)(7% gamma Linolenic Acid, 64% Linoleic Acid), Red
Clover Flower (Trifolium pratense), Dandelion Root
(Taraxacum officinale), Milk Thistle Seed (Silybum
marianum), Burdock Root (Arctium lappa) - 1.25 g (1,250 mg)


Suggested Usage: As a special dietary supplement, take three (3) tablets with breakfast, or for optimal results, take one (1) tablet with each meal. Dosage may be increased as directed by a healthcare practitioner.

Other Ingredients: Dicalcium Phosphate, Terra Alba (Calcium Sulfate), Maltodextrin, Stearic Acid.

Made in a GMP facility that processes egg, fish, milk, shellfish, soy, tree nut & wheat products.

Vegetarian. Kosher.
Michael's®