Michael's Teen Boys Tabs 90 Tablets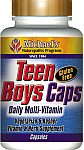 SKU: MC04101
UPC Code: 755929041015
Weight: 0.25



Formulated with nutrients and herbs especially for teen boys.

NourishingFoods Price:$12.15
Retail Price: $22.49
SAVE: 46%
A daily formula of nutrients and herbs for teen boys
Provides essential nutrients for a healthy male bodyª
Contains herbs that have been traditionally used by males for health
Ideal for the physically active teenager
Contains Opti-Zinc® with choline, inositol and niacin


Formulated with nutrients and herbs especially for teen boys. With OptiZinc®.
Two Tablets Contain:
Vitamin A (as Beta Carotene) - 10,000 IU
Vitamin C (as Calcium Ascorbate) - 200 mg
Vitamin D (as Ergocalciferol) - 400 IU
Vitamin E (as d-alpha Tocopheryl Succinate) - 100 IU
Pantothenic Acid (as Calcium Pantothenate) - 80 mg
Thiamin - 40 mg
Riboflavin - 40 mg
Niacin (as Niacinamide) - 80 mg
Vitamin B-6 (as Pyridoxine) - 40 mg
Folic Acid (as Folacin) - 400 mcg
Vitamin B-12 (as Cobalamin) - 500 mcg
Biotin - 40 mcg
Zinc (as Zinc Monomethionine**) - 15 mg

Proprietary Blend: Choline (as Choline Bitartrate),
Inositol, Essential Fatty Acids (from Flax Seed)(7% gamma
Linolenic Acid, 64% Linoleic Acid), Bioflavonoids (from
Citrus), PABA (Para-aminobenzoic Acid), Pumpkin Seed
(Cucurbita pepo), Oriental Ginseng Root (Panax ginseng),
Saw Palmetto Berry (Serenoa serrulata), Sarsaparilla Root
(Smilax officinalis), Rutin, Hesperidin - 425 mg


Suggested Usage: As a special dietary supplement, take two (2) tablets in the morning with breakfast. Dosage may be increased as directed by a healthcare practitioner.

Other Ingredients: Dicalcium Phosphate, Stearic Acid and Vegetable Stearate.

Made in a GMP facility that processes egg, fish, milk, shellfish, soy, tree nut & wheat products.

Gluten Free. Kosher.
Michael's®