Michael's Teen Girls Tabs 60 Tablets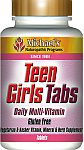 SKU: MC04400
UPC Code: 755929044009
Weight: 0.25



Formulated with nutrients and herbs especially for teen girls. With OptiZinc®.

NourishingFoods Price:$10.95
Retail Price: $17.99
SAVE: 39%
A daily formula of nutrients and herbs for teen girls
Provides essential nutrients for a healthy female bodyª
Contains herbs that have been traditionally used by females for health
Ideal for the physically active teenager
Contains Opti-Zinc® with choline, inositol and niacin


Formulated with nutrients and herbs especially for teen girls. With OptiZinc®.
Two Tablets Contain:
Vitamin A (as Beta Carotene) - 10,000 IU
Vitamin C (as Calcium Ascorbate) - 200 mg
Vitamin D (as Ergocalciferol) - 400 IU
Vitamin E (as d-alpha Tocopheryl Succinate) - 100 IU
Thiamin - 40 mg
Riboflavin - 40 mg
Niacin (as Niacinamide) - 80 mg
Vitamin B-6 (as Pyridoxine) 40 mg
Folic Acid (as Folacin) - 400 mcg
Vitamin B-12 (as Cobalamin) 500 mcg
Biotin - 400 mcg
Pantothenic Acid (as Calcium Pantothenate) - 80 mg
Zinc (as Zinc Monomethionine**) - 10 mg
Manganese (as Manganese Amino Acid Chelate) - 10 mg

Proprietary Blend: Choline (as Choline Bitartrate),
Inositol, Essential Fatty Acids (from Flax Seed), (7% gamma
Linolenic Acid, 64% Linoleic Acid), Bioflavonoids (from
Citrus), PABA (Para-aminobenzoic Acid), Dong Quai Root
(Angelica sinensis), Aletris Root (Aletris farinosa), Red
Raspberry Leaf (Rubus idaeus), Yellow Dock Root (Rumex
crispus), Squawvine Leaf (Mitchella repens), Marshmallow
Root (Althea officinalis), Dandelion Root (Taraxacum
officinale), Licorice Root (Glycyrrhiza glabra), Rutin,
Hesperidin - 545 mg


Suggested Usage: As a dietary supplement, take two tablets with breakfast. Dosage may be increased as directed by a healthcare practitioner.

Other Ingredients: Dicalcium Phosphate, Maltodextrin, Vegetable Stearate and Stearic Acid.

Made in a GMP facility that processes egg, fish, milk, shellfish, soy, tree nut & wheat products.

Vegetarian. Kosher. Gluten-free.
Michael's®