MRM Attention 482mg 90 Softgels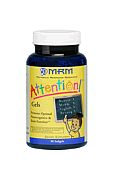 SKU: MRM63003
UPC Code: 609492630032
Weight: 0.38



Attention!™ is a "state of the art" nutritional supplement formulated to meet the needs of children who exhibit attention and behavioral problems. MRM's Attention! supports optimal neurocognitive & brain function.

• Natural alternative for children with behavior & learning problems.*
• Easy to swallow softgel capsules that provide unique delivery system for essential nutrients.*

MRM™ - Metabolic Response Modifiers™
NourishingFoods Price:$20.73
Retail Price: $29.95
SAVE: 31%
Natural alternative for children with behavior & learning problems
Easy to swallow softgel capsules that provide unique delivery system for essential nutrients


Attention! is a "state of the art" nutritional supplement formulated to meet the needs of children who exhibit attention and behavioral problems. Designed in a tasty snack bar delivery system (or easy to swallow softgel capsules) that enables children to successfully and enjoyably ingest the nutrients that are otherwise only available in individual supplements or foods that are usually difficult to get children to eat. This comprehensive formulation consists of essential fatty acids docosahexanoic acid (DHA), phospholipids (including phosphatidylserine, PS), specific vitamins, minerals, herbs and other nutrients. World-wide research has shown these nutrients to enhance the neurological function and learning capabilities, address common problematic nutritional deficiencies, as well as help in balancing blood glucose levels*.
Nutritional Information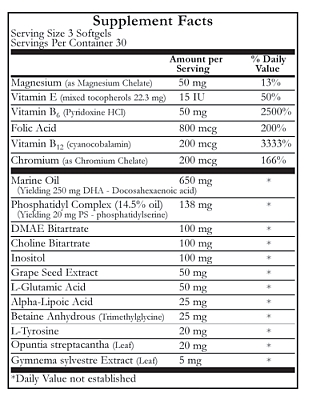 Directions: As a dietary supplement, take 1 softgel up to 3 times daily with a meal or as recommended by your qualified healthcare provider.

Other Ingredients: Gelatin (Carmine coloring), sesame oil, & Bees Wax.
MRM - Metabolic Response Modifiers