MRM Cardio Chelate™ with EDTA 650mg 180 Vegetarian Capsules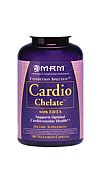 SKU: MRM31011
UPC Code: 609492310118
Weight: 0.31



• Supports optimal cardiovascular health.
• EDTA - FDA approval in food supply for 50 years.*
• EDTA - FDA approved use in heavy metal poisoning.*
• Benefit in detoxification, arterial and venous support.*
• Normalizes metal balances within the body.*

MRM™ - Metabolic Response Modifiers™
NourishingFoods Price:$23.07
Retail Price: $39.99
SAVE: 42%
EDTA - FDA approval in food supply for 50 years*
EDTA - FDA approved use in heavy metal poisoning*
Benefit in detoxification, arterial and venous support*
Normalizes metal balances within the body*


Cardio-Chelate™ was created to meet the needs of those interested in the "Alternative" approach to vein and arterial support*. EDTA (EthyleneDiamine-Tetra-acetic Acid) has been used as a stabilizer (maintains food color and flavor) in the food industry for several years. The Food and Drug Administration (FDA) even approved its use 50 years ago for treatment of lead, mercury, aluminum and cadmium toxicity*. This is due to its ability to bind to, or "normalize" metallic element distribution within the body. This action within the body warrants its use in removing plaque, inhibit clotting and improve calcium and cholesterol metabolism*.
Each Capsule Contains:
Calcium (from EDTA) - 40 mg
Vitamin C (as Ascorbic Acid) - 100 mg
EDTA (Ethylene-Diamine-Tetra-Acetic Acid) - 400 mg
MSM (Methyl-Sulfonyl-Methane) - 100 mg
NAC (N-Acetyl-Cysteine) - 50 mg


Suggested Usage: Take 1 capsule 3 times daily (maintenance phase) or 3 capsules 2 times daily (intense phase) on an empty stomach or as directed by your qualified healthcare provider. It is recommended to take a multi-vitamin/mineral supplement at meals (2 hours away from EDTA supplement) during chelation process.

Other Ingredients: Other Ingredients: Capsule is made from plant cellulose. Microcrystalline cellulose and magnesium stearate.

Contains NO common allergens.
Metabolic Response Modifiers