MRM Liquid Co-Q 10 100 mg with L-Carnitine 1000 mg 16oz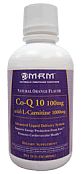 SKU: MRM72217
UPC Code: 609492722171
Weight: 1.44



• Promotes cardiovascular health**
• Supports energy production from fats**
• Natural orange flavor

NourishingFoods Price:$20.76
Retail Price: $29.99
SAVE: 31%
Promotes cardiovascular health**
Supports energy production from fats**
Natural orange flavor


L-Carnitine has been shown through clinical trials to support cardiovascular health beginning with its ability to assist in clearing fats from the blood and into the mitochondria, the energy powerhouse of the cells. L-Carnitine has also been shown to support muscle growth, weight management and liver health. MRM now offers this remarkable amino acid in an Advanced Liquid Delivery System for optimal absorption. CoQ-10 is critical to the function of the heart, liver and kidneys where it supports cell membrane stabilization and acts as an antioxidant, in addition to energy production. This combination of L-Carnitine and CoQ-10 is essential to cardiac function (heart muscle) and beneficial blood lipid profiles.
Nutritional Information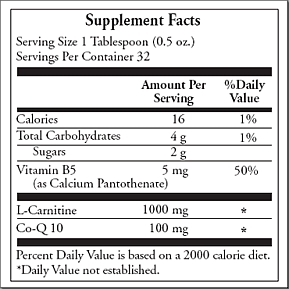 Directions: As a dietary supplement, take 1 tablespoon up to 3 times daily with a meal, or as recommended by your qualified healthcare provider.

Other Ingredients: Purified water, vegetable glycerin, fructose, sorbitol, citric acid, natural orange flavor, tumeric (color), potassium sorbate & potassium benzoate.
MRM - Metabolic Response Modifiers