MRM PS (Phosphytidylserene) 100 mg 60 Softgels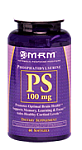 SKU: MRM56010
UPC Code: 609492560100
Weight: 0.31



PS is a naturally occurring phospholipid in the brain that exerts a number of metabolic and pharmacologic effects. Numerous studies have documented the impact of PS on specific neurotransmitters in the brain including acetylcholine, serotonin, norepinephrine and dopamine*.

MRM™ - Metabolic Response Modifiers™
NourishingFoods Price:$25.83
Retail Price: $39.99
SAVE: 35%
Promotes OPTIMAL Brain Function
Enhances Attention, Concentration & Memory
Optimizes Athletic Performance
Reduces Muscle Soreness Following Intense Training*


PS is a naturally occurring phospholipid in the brain that exerts a number of metabolic and pharmacologic effects. Numerous studies have documented the impact of PS on specific neurotransmitters in the brain including acetylcholine, serotonin, norepinephrine and dopamine*. Many researchers also agree that all of these neurochemical systems are involved in age-related cognitive functioning*. A recent 6-month Israeli study showed that patients taking 300 mg of PS per day had positive results in attention, concentration and memory*. When individuals were supplemented with 300 mg daily of PS for 45 days, the results showed consistent improvements in behavior*.

Fahey and Pearl, 1998 Biology and Sport, indicated in a balanced order, double-blind cross-over design study, that PS supplementation decreased cortisol after exercise*. This is possibly due to decreasing ACTH while subduing the negative effects of intense weight training (perception of well-being and muscle soreness)*.
Nutritional Information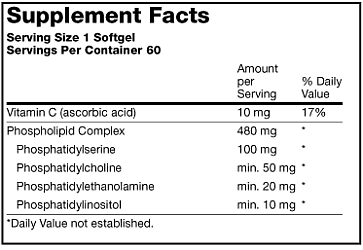 Directions: As a dietary supplement, take 1 softgel up to 3 times daily with a meal or as recommended by your qualified healthcare provider.

Other Ingredients: Gelatin, other phospholipids, glycerides and soy oil.
MRM - Metabolic Response Modifiers