Natural Factors PGX Daily Ultra Matrix 750 mg 240 Softgels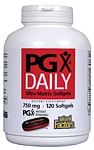 SKU: NF03571
UPC Code: 068958035710
Weight: 1.31

As Seen on Dr. Oz
New Larger Size!!
PGX Supports healthy weight loss and overall good health. It helps lower the glycemic index of your meals and promote healthy blood sugar levels already in normal range. Incorporating PGX® into your daily diet will promote satiety, curb food cravings and normalize appetite and metabolism.
Product Information
Save An Extra 16%!!! Enter Coupon Code: PGX At Checkout Or,

Click Here To Save an Additional 16% On PGX
NourishingFoods Price:$52.46
Retail Price: $69.95
SAVE: 25%

As Seen on Dr. Oz

Natural Factors PGX Daily Ultra Matrix will change your life, even if you don't!


Benefits
Normalizing and stabilizing blood sugar
Lowering insulin secretion
Improving insulin sensitivity
Lowering after-meal blood sugar levels
Reducing the glycemic index of meals
Controlling appetite for healthy weight loss
Burning body fat
Balancing cholesterol and reducing triglycerides
Improving regularity


Years of research involving thousands of participants have shown that taking PGX as a supplement with food can reduce a the glycemic index of a meal by up to 50%. Regulating blood sugar is a key factor in many health conditions, including weight gain. Incorporating PGX Daily Ultra Matrix Softgels into your weight loss diet can help you lose weight safely and gradually, even if you are not yet ready to make other positive diet and lifestyle changes at first. Naturally, the beneficial effects of PGX will be enhanced by a healthy diet and exercise, leading to incredible results.

The PGX plan has been clinically shown to help end the cravings and hunger that make you eat more, and more often, than you know you should. Willpower? You don't need it with PGX. Appetite control and a feeling of satiety make all the difference when you're trying to control your weight. PGX helps reset your metabolism and virtually changes the glycemic index of foods. You crave less, burn more fat and your body redefines the way it handles insulin.

What is PGX? - PGX (PolyGlycopleX) is a non-starch polysaccharide (fibre) that has a very high water-absorbing capacity. When used with meals, PGX absorbs significant amounts of water, increasing the volume of the food you eat, quickly making you feel full, even when your food portions are smaller. Therefore, it is important to drink plenty of water when using PGX.

This prolongs the after-meal sense of fullness helps normalize blood sugar levels and insulin secretion. By levelling out your sugar absorption, you can eliminate the "blood sugar roller coaster" - when food intake causes excess insulin to be secreted, later causing you to feel hungry due to blood sugar dropping, which then causes you to consume more food, which then causes more insulin secretion, etc. These ups and downs in blood sugar are hard on your body and make it very difficult to lose weight. PGX also increases food viscosity (its gel-like quality), which slows the rate that food is digested and absorbed.

Ongoing research and development involving PGX has led to the development of the PGX Daily Ultra Matrix softgel – an advanced delivery system for superior results. The Ultra Matrix technology involves suspending PGX in an MCT-rich oil matrix (medium-chain triglycerides) derived from purified coconut oil. This matrix, when combined with stomach acid, disperses better than any other tested delivery system for soluble or insoluble fibre, including previous forms of PGX. Rapid dispersal substantially increases the potential of PGX Daily as the polysaccharides quickly attract water and thicken quickly providing a profound sense of fullness. This effect is referred to as "acid-induced viscosity" and it begins within minutes of ingesting PGX Daily.
Nutritional Information
Suggested Use: Start with 1-2 softgels per meal and slowly build up to the recommended dose of 3-6 softgels per meal. For best results take PGX Daily softgels before meals with a glass of water (250 mL), or as directed by a health care practitioner.

Children: Half the adult dose is recommended for children following the same dosage recommendations as above. PGX is recommended for children who have problems with obesity. Growing, active children should not reduce healthy calories. It is also recommended only for children who have the ability to swallow capsules. Consult with your health care practitioner prior to use.

Pregnancy and Nursing: As the effects of PGX Daily Ultra Matrix have not been sufficiently evaluated in pregnant and lactating women, it should only be used under the direction of a health care practitioner. It is also highly inadvisable for a woman to go on a weight loss program (unless suggested by a health care practitioner) while pregnant.

Contraindications
If taking medication, take one hour prior to, or two hours after taking PGX Daily Ultra Matrix softgels.
PGX Daily Ultra Matrix can be used along with insulin or diabetes drugs.
People with diabetes must monitor their blood glucose and adjust their medication accordingly, as PGX helps control blood glucose and may lessen the need for insulin or other diabetes medications over time.
People with Type 1 and Type 2 diabetes should work closely with their prescribing health care practitioner.
Anyone on a large number of medications that need to be taken with food should discuss PGX Daily with their health care practitioner.
If you are under 18 years of age or have health concerns, consult your health care practitioner before starting any weight loss program.

Other Ingredients: Gelatin capsule, (gelatin, glycerin, purified water, annatto, carob), yellow beeswax, soy lecithin.

Contains no artificial sweeteners; no corn, dairy, starch, wheat or yeast.




PGX.com Product Information


Save An Extra 16%!!! Enter Coupon Code: PGX At Checkout Or,

Click Here To Save An Additional 16% On PGX