Natural Factors Coenzyme Q10 200mg 30 Softgels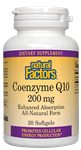 SKU: NF20721
UPC Code: 068958207216
Weight: 0.19



Natural Factors easy-to-swallow Coenzyme Q10 softgel capsules contain a high potency formula consisting of 100mg of Coenzyme Q10 in a base of rice bran oil for enhanced absorption. Coenzyme Q10, also called Co Q10 or Ubiquinone is a natural substance essential to cellular energy production. It is an antioxidant which scavenges free radicals throughout the body. It is also involved in maintaining normal heart function.* Co Q10 works well with Vitamin E and other antioxidants.

Natural Factors®
NourishingFoods Price:$20.27
Retail Price: $28.95
SAVE: 30%
Natural Factors easy-to-swallow Coenzyme Q10 softgel capsules contain a high potency formula consisting of 200mg of Coenzyme Q10 in a base of rice bran oil for enhanced absorption. Coenzyme Q10, also called Co Q10 or Ubiquinone is a natural substance essential to cellular energy production. It is an antioxidant which scavenges free radicals throughout the body. It is also involved in maintaining normal heart function.* Co Q10 works well with Vitamin E and other antioxidants.
Nutritional Information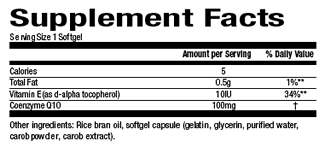 Directions: 1- 2 capsules daily or as directed by a health professional.

Contains no artificial preservatives or color, no corn, dairy, gluten, soya, starch, sweeteners, or yeast.
Natural Factors&reg