Natural Factors RXOmega-3 Factors 120 Softgels
SKU: NF04913
UPC Code: 068958049137
Weight: 0.56

EFA blend for women. Fish oil concentrate, with Evening Primrose & Flaxseed oils.
Product Information
Natural Factors®
NourishingFoods Price:$15.37
Retail Price: $21.95
SAVE: 30%
EFA blend for women. RxOmega-3 Factors is a pharmaceutical grade liquid fish oil concentrate providing the essential fatty acids EPA and DHA. Supportive but not conclu-sive research shows that consumption of EPA and DHA omega-3 fatty acids may reduce the risk of coronary heart disease.* One serving (2 softgels) provides 400 mg of EPA and 200 mg of DHA omega-3 fatty acids. Stringent quality control standards ensure this highly purified fish oil concentrate is free from toxic environmental contaminants and heavy metals like mercury.

This formula also contains evening primrose and organic flaxseed oil, which provides the important essential fatty acids gamma linolenic acid (GLA) and alpha linolenic acid (ALA).
Nutritional Information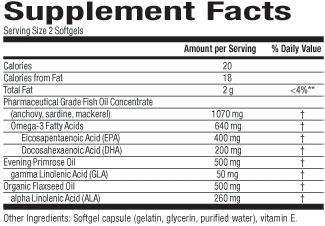 Directions: 2 softgels, 1-3 times per day or as directed by a health professional. Keep out of reach of children.

Contains: Fish (anchovies, sardines and mackrel), Evening Primrose Oil, Organic Flaxseed Oil, softgel capsule (gelatin, glycerin, purified water), Vitamin E.

Free of: artificial preservatives, colors, sweeteners, dairy, starch, corn, wheat, or yeast.
Natural Factors&reg