Nature's Life® Hi-B-100 Complex 250 Tablets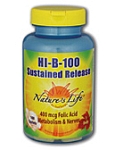 SKU: NL149
UPC Code: 040647001497
Weight: 0.88



B-Vitamins are critical as coenzymes for energy production and are essential to maintain healthy nerves, skin, homocysteine levels and heart.

NourishingFoods Price:$29.52
Retail Price: $49.19
SAVE: 40%
B-complex vitamins are intended to provide nutritive support for healthy metabolism, energy level, nervous system, homocysteine levels, muscle tone, skin and hair.
Each (1) Tablet Contains:
Thiamine (as Thiamine mononitrate) (B-1) - 100 mg

Riboflavin (B-2) - 100 mg

Niacin (as Niacinamide) (B-3) - 100 mg

Vitamin B-6 (as Pyridoxine HCI) - 100 mg

Folate (as Folic Acid) - 400 mcg

Vitamin B-12 (as Cyanocobalamin) - 100 mcg

Biotin (as d-Biotin) - 100 mcg

Pantothenic Acid (as Calcium Pantothenate) - 100 mg

Choline Bitartrate - 100 mg

Inositol - 100 mg

PABA (para-Aminobenzoic Acid) - 100 mg


Suggested Usage: Take one (1) tablet per day, with food. Store in a cool, dry place. Keep out of the reach of children.

Other Ingredients: Cellulose, Silica, Stearic Acid, Magnesium Stearate, Acacia and Rice Bran.

Nature's Life® guarantees the NO ingredients other than those listed on this product's label have been added to this product. This quality Nature's Life® product meets our Quality Assurance Procedures and Good Manufacturing Practices.

Quality that you can trust.
Nature's Life®