New Chapter Bone Strength Take Care 120 Tablets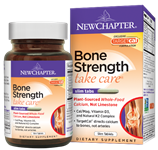 SKU: NC00408
UPC Code: 727783004086
Weight: 1.06



The calcium complex in Bone Strength Take Care is derived from a specific plant form called Lithothamnion Calcareum, sustainably harvested from pristine shores along the Icelandic coastline.

NourishingFoods Price:$38.37
Retail Price: $63.95
SAVE: 40%
Whole-Food Cal/Mag Vitamin D3 and K2 Complex.
Bone-strengthening calcium your body recognizes as food.
With AlgaeCal®, a proprietary plant source of calcium.


Evidence suggests that calcium from whole food sources may produce more favorable effects in bone health than isolated calcium supplements.* Similar to most nutrients, the body can utilize calcium much more effectively when it is paired with its natural co-factors such as magnesium and other trace minerals.
New Chapter® is proud to deliver a calcium complex derived from whole food that delivers these key essential nutrients in their safest, most active form within the infinite complexity of whole food.
The calcium complex in Bone Strength Take Care™ is derived from a special form of plant called Algas Calcareas (AlgaeCal®) that is harvested from the pristine shores of a protected national reserve park in South America. Much like the vegetables from an organic garden, the algae is harvested live and then cold processed to retain its nutritional value.
In addition to the whole-food source of calcium and magnesium, we have also added other bonenourishing nutrients to complete the food complex. Vitamin K is an essential co-factor in calcium absorption and retention.
Bone Strength Take Care is formulated with the most bioavailable, bioactive, and longest-lasting form of Natural Vitamin K2 (MK-7) (from MenaQ7™). This key nutrient helps put calcium into your bones where you need it, and helps keep calcium out of your arteries, where you don't.
Probiotic Vitamin D3 completes the bone health complex. Natural Vitamin K2 partners with Vitamin D3 to promote bone health, support, and function – in particular, both vitamins promote calcium absoprtion and utilization.
3 Tablets Contain:
Vitamin D3 - 1000 IU
Vitamin K1 - 35 mcg
Vitamin K2 (MK-7) (from MenaQ7™) - 45 mcg
Calcium (from Algae [Algas Calcareas]) - 685 mg
Magnesium (from Algae [Algas Calcareas]) - 70 mg
AlgaeCal® Powder (from Algae[Algas Calcareas]) - 2400 mg
Silica (from Algae [Algas Calcareas]) - 40 mg
Strontium (from Algae [Algas Calcareas]) - 5 mg
Vanadium (from Algae [Algas Calcareas]) - 15 mcg



Take 3 tablets with 8 oz. of water in the middle of a larger meal. For best results, take one tablet with lunch and two tablets with dinner daily.

Nutrients are cultured in organic media that may contain: organic milled soy, organic yeast (Saccharomyces cerevisiae), organic maltodextrin, organic gum acacia, organic alfalfa powder, enzymes and Lactobacilli (L. acidophilus, L. bifidus, L. rhamnosus).

Other ingredients: Organic barley grass, organic gum acacia, modified cellulose, silica, dextrin, sunflower oil, sodium caseinate, starch (maize), glycerol fatty acid ester, L-ascorbyl palmitate, Bacillus subtilis natto extract, and rosemary extract.

Contains: Dairy and fermented soy.

Naturally gluten free.

Caution: As with any dietary or herbal supplement, you should advise your health care practitioner of the use of this product. If you are nursing, pregnant, or considering pregnancy, you should consult your health care practitioner prior to using this product.

New Chapter®