New Chapter Every Woman's One Daily 48 Tablets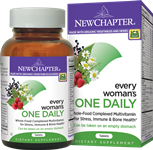 SKU: NC00307
UPC Code: 727783003072
Weight: 0.69



Every Woman's One Daily is a once-daily whole-food complexed multi-vitamin formulated specifically for the needs of active women under the age of 40.

NourishingFoods Price:$23.97
Retail Price: $39.95
SAVE: 40%
• Rich in fermented soy, which is a key component of every woman's healthy diet
• Supports dynamic female energy
• Easy to digest, even on an empty stomach–they're cultured whole food!
• Deliver essential nutrients in their safest and most active form within the infinite complexity of whole food.
• Provide an energizing and protective array of phytonutrients and ferment metabolites, including cultured
soy isoflavones, beta glucans, bacteriocins, glutathione, lipoic acid, and enzymes.


Every Woman® provides you an organic probiotic alternative to isolated or USP vitamins and minerals. All of our vitamins and minerals are cultured in organic soy using nature's most prized and studied probiotics, featuring Lactobacilli acidophilus, bifidus, rhamnosus, and Saccharomyces cerevisiae. New Chapter's Probiotic Nutrients™ deliver biotransformed vitamins and minerals in their finest cultured form, much in the same way as miso, kefir, tempeh, and yogurt.

Made with Organic Ingredients - Certified Organic by International Certification Services, Inc., USA
Each Tablet Contains:
Vitamin A (100% as beta-carotene)† - 5000 IU
Vitamin C† - 60 mg
Vitamin D† - 400 IU
Vitamin E† - 30 IU
Vitamin K† - 80 mcg
Thiamin-Vitamin B1† - 1.5 mg
Riboflavin-Vitamin B2† - 1.7 mg
Niacin† - 20 mg
Vitamin B6† - 2 mg
Folate - 800 mcg
Vitamin B12† - 12 mcg
Biotin† - 150 mcg
Pantothenic Acid† - 10 mg
Calcium† - 10 mg
Iron† - 3 mg
Iodine† - 75 mcg
Zinc† - 8 mg
Selenium† - 50 mcg
Copper† - 1.5 mg
Manganese† - 1 mg
Chromium† - 60 mcg
Molybdenum† - 40 mcg
Potassium† - 1 mg < 1%
Mixed Carotenoids† - 3 mg


Organic Cultured Herbal Extracts (Proprietary Blend)
Women's LifeShield® Response † [Chaste tree (Vitex agnus-castus) (berry)‡, Maca (root)‡, Artichoke (leaf)‡, Red Clover (flower)‡, Raspberry (leaf)‡, Nettle (leaf)‡] - 6 mg
Immune Support Response † [Astragalus (root)‡, Elderberry (berry)‡, Shiitake (mushroom)‡, Cordyceps (mushroom)‡, Reishi (mushroom)‡, Maitake (mushroom)‡] - 6 mg
Optimal Stress Response [Chamomile (flower), Lavender (flower), Eleuthero (root), American Ginseng (root), Hawthorn (berry and leaf)] - 30 mg

Superfoods and Spices (Proprietary Blend)
Soy Lecithin (non-GMO) † *** - 45 mg
Organic Spinach (leaf) - 6 mg
Turmeric (rhizome) 3.2 mg hydroethanolic extract and 0.8 mg organic supercritical extract - 4 mg
Ginger (rhizome) 3.2 mg hydroethanolic extract and 0.8 mg organic supercritical extract - 4 mg
Organic Blueberry (fruit) - 4 mg

‡ Organic
† Nutrients are cultured in organic media that may contain: organic milled soy, organic yeast (Saccharomyces cerevisiae), organic maltodextrin, organic gum acacia, organic orange and lemon peel - natural sources of bioflavonoids, organic carrot powder, organic alfalfa powder, enzymes and Lactobacilli (L. acidophilus, L. bifidus, L. rhamnosus).
*** A natural source of choline, inositol, linoleic and linolenic acids

Suggested Usage: One tablet daily. Can be taken anytime, even on an empty stomach.

Other ingredients: Organic gum acacia, silica, organic pre-gelatinized maize starch, lac resin, and carnauba wax.

Contains: Fermented soy.

Naturally gluten free.

100% vegetarian; no artificial flavors or colors.

Warning: Accidental overdose of iron-containing products is a leading cause of fatal poisoning in children under 6. Keep this product out of the reach of children. In case of accidental overdose, call a doctor or poison control center immediately.

Caution: As with any dietary or herbal supplement, you should advise your health care practitioner of the use of this product. If you are nursing, pregnant, or considering pregnancy, you should consult your health care practitioner prior to using this product.

New Chapter®