New Chapter Supercritical Omega 7™ 60 Vcaps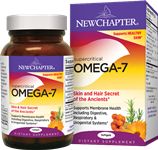 SKU: NC90098
UPC Code: 727783900982
Weight: 0.56



Complements the Omega fatty acid benefits. Supports mucous membrane health of the digestive and urogenital systems. Supports GI tract regeneration. Traditional skin restorative.

NourishingFoods Price:$37.77
Retail Price: $62.95
SAVE: 40%
Omega-3, -6, and -9. Most people have heard of these essential fatty-acids and they should already be part of your daily health routine. Omega-3 is abundant in fresh flax and fish, such as salmon. In borage and primrose you'll find Omega-6. And, in olives, Omega-9. There is broad scientific consensus that these beneficial oils help sustain and protect. But one critical Omega fatty-acid is commonly missing from the list: Omega-7.

The natural botanical source of New Chapter's® Supercritical Omega-7 oil, Sea Buckthorn, is comprised of both palmitoleic and cis-vaccenic acids and has been used in the ancient tradition for centuries to promote skin, urogenital and digestive health.*

The key source of Supercritical Omega-7's lauded skin support properties comes from a specific fatty acid. Palmitoleic acid is a naturally occurring component of healthy skin and is a highly effective antioxidant providing strong anti-aging support because of its ability to rein in free radicals.* A 1999 report suggested that this palmitoleic acid may help support healthy skin.* This key constituent of Supercritical Omega-7 is also a strong emollient – a substance that soothes and moisturizes the skin and promotes the regeneration of tissues.*

Omega-7: Traditional Skin & Membrane Support
While the benefit of Sea Buckthorn on the body's largest organ, the skin, has been widely documented in ancient texts, it also has an extensive history of traditional use in Tibet & Mongolia for the body's sensitive internal organs – in particular the mucous membranes that line the stomach/GI tract, upper respiratory tract, and vagina. The ability of this botanical to help moisturize and soothe these sensitive internal areas in addition to its external skin benefits has made it a staple of traditional herbal systems. Similar properties have been reported in various modern studies.

Modern science has determined how best to extract Sea Buckthorn's broad spectrum constituents. Supercritical Omega-7 employs a special technology called Supercritical CO2 extraction (which does not use hexane or other industrial solvents commonly used to create herbal extracts), that delivers the beneficial components of Sea Buckthorn under extremely gentle conditions in a low heat and oxygen environment.

Omega-7 nicely complements any essential fatty- acid health regimen. The berries and seeds of this revered botanical are also a source of traditional Omega-3, -6, and -9 – making it the optimal form of essential fatty-acid supplementation, and one that everyone should consider incorporating into their skin and membrane health routine.

Each (1) Softgel Contains:
Sea Buckthorn (fruit) supercritical extract (min.
20% palmitoleic acid) - 350 mg
Sea Buckthorn (seed) supercritical extract - 100 mg
Rosemary (leaf ) supercritical extract - 25 mg
Calendula (flower) supercritical extract - 25 mg


Suggested Usage: One softgel daily with 8 ounces of water or juice. Additional benefits can be gained with up to 4 capsules daily.

Other Ingredients: Organic sunflower oil, and palm kernel oil.

Capsule: Gelatin, vegetable glycerine, water, caramel, and carob.

Naturally gluten free.

Caution: As with any dietary or herbal supplement, you should advise your healthcare practitioner of the use of this product. If you are nursing, pregnant, or considering pregnancy, you should consult your healthcare practitioner prior to using this product.
New Chapter®