Nordic Naturals Children's DHA 250 mg 360 Chewable Softgels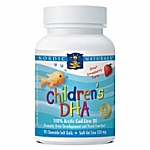 SKU: NN02720
UPC Code: 768990027208
Weight: 0.69



100% Cod Liver Oil. Promotes Brain development and visual function.

NourishingFoods Price:$37.36
Retail Price: $43.95
SAVE: 15%
Nordic Naturals Children's DHA 250mg 90 Chewable Softgels - is s small, chewable cod liver oil supplement flavored with strawberry essence. Children's DHA is a delicious way for children to supplement their diet with the essential brain nutrient, DHA. Molecularly distilled for purity, Children's DHA contains only naturally existing vitamins A and D. For children three years and older.
4 Softgels Provide:
DHA: 125 mg
EPA: 82 mg
Other Omega-3s: 45 mg
Vitamin A: 130 - 300 IU
Vitamin D: 1 - 4 IU
Vitamin E (d-alpha tocopherol): 14 IU



Suggested Use: Four soft gels daily, with food, or as directed by your health care professional. Capsules can be chewed or swallowed.

Ingredients: purified arctic cod liver oil, soft gel (gelatin, water, glycerin, strawberry essence), d-alpha tocopherol, strawberry essence, rosemary extract.
Nordic Naturals®