Nordic Naturals Nordic GLA 4 fl oz (119 ml)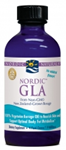 SKU: NN01665
UPC Code: 768990016653
Weight: 0.25



Nordic GLA™ is a vegetarian borage oil made exclusively from non-GMO, New Zealand grown borage seed. It is formulated from a unique omega-6, gamma linolenic acid (GLA), that offers natural anti-inflammatory support.*

NourishingFoods Price:$25.46
Retail Price: $29.95
SAVE: 15%
Cold-pressed from borage seed

100% vegetarian borage oil

480 mg GLA per serving—highest level of GLA among leading brands

Excellent tolerability

Supports the body's natural anti-inflammatory response*

Effective on its own, or in combination with any Nordic Naturals omega-3 product



Nordic GLA™ is a vegetarian borage oil made exclusively from non-GMO, New Zealand grown borage seed. It is formulated from a unique omega-6, gamma linolenic acid (GLA), that offers natural anti-inflammatory support.* It is effective on its own, or in combination with Nordic Naturals fish or algae oil omega-3 products, and supports radiant skin, hormonal balance, healthy joints, respiratory function, and optimal body-fat metabolism.*



Nutritional Information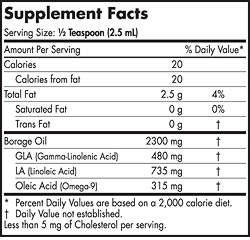 Suggested Use: 1/2 teaspoon daily, with food, or as directed by your health care professional or pharmacist.

Other Ingredients: Borage oil (Borago officinalis), d-alpha tocopherol, rosemary extract (a natural preservative).

Free of: gluten, milk derivatives, or artificial colors or flavors.

Warnings: Consult with your physician before using this product if you are pregnant or lactating, use blood thinners, or anticipate surgery. Keep out of the reach of children.
Nordic Naturals®